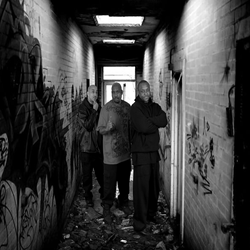 We eat and breathe hip hop!
NEW BRUNSWICK, NJ (PRWEB) February 21, 2015
Very little distinguishes the New Jersey Turnpike's Exit 9 from any other highway exit. Nothing about the exit indicates you're heading into "the devil's nest," the eerie streets that offer inspiration to one of Hip Hop's strongest voices: Young Gifted. Calling themselves "The Official Exit 9 Representers," Young Gifted is known for their street anthems set to the most classic of hip hop beats. They say they're more public speakers than entertainers, although, "If you're entertained, that's cool."
"Sick Enuff," Young Gifted's follow up to the group's #1 single "Murda1," is set for digital release on Feb. 21, 2015, and is already resonating with the group's target base and receiving praise and support from notable mixshows around the country. Keeping their sound built for the streets, "Sick Enuff" features the group's trademark lyrical dexterity and riveting street flair and offers an up-close-and-personal view of a lyrically-sick individual.
Young Gifted features rappers LOVE, Total Kaos, Profilez and Reaction, who say that "'Sick Enuff' is a step forward for the have nots and the industry has no choice but to make room. The single explodes with unadulterated candor."
Understanding that the key to success is showing up and working hard, Young Gifted's work ethic and deep catalog of hit tracks are what sets them apart from other artists. These rhyme slingers represent the golden age of Hip Hop and they list every hip hop icon as inspiration, including Naughty by Nature, Redman, Tupac, Notorious BIG and Canibus.
"We eat and breathe hip hop," the group says. "It's our way of life. If you listen close, it's forever in our music. Young Gifted is and always will be timeless."
Profiled on XXL Magazine, Hip Hop Weekly and The Source, Young Gifted have kept their ears to the ground, which is why they have stood the test of time. They put their heart and soul into their music.