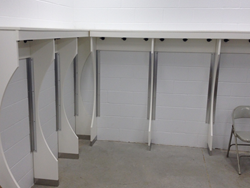 "Everyone involved with the Siebert Park renovation couldn't be happier with Scranton Products' support and quality of the complete range of products they provided—it truly has enhanced the new stadium and its facilities. --Bob Royer. KS Heagy Contractors
Scranton, PA (PRWEB) December 04, 2014
Scranton Products, a leading manufacturer of low-maintenance bathroom partitions and lockers, announced today that the Christian L. Siebert Park in Camp Hill, PA, selected Scranton Products' full line of products for a new $4.7 million stadium renovation project. In recent years, the Camp Hill sports programs had to compete on the road or off-site because the stadium facilities were too outdated to host other teams.
Originally built in the 1940s, the stadium's upgrades for the football team include a new artificial turf field, home stadium seating, an indoor team room attached to public restrooms and a new field house, as well as new tennis courts, six-lane track and a softball field.
Scranton Products supplied dozens of customized athletic cubbies for the home and away players in each locker room. According to Paul Hostetter of Hostetter Supply in Seven Valleys, PA, Scranton Products went above and beyond the role of supplier and worked directly with the project's contractors and architects to produce the cubbies from pre-cut HDPE sheet material.
"These cubbies were created to withstand the wear and tear that comes with storing the gear of entire football teams for years to come," said Hostetter. "They turned out beautifully and will stay that way with little maintenance."
Tufftec lockers were used in the officials' locker rooms and are also designed to meet the demands of the harshest daily use, while remaining virtually maintenance free. The lockers are impact, dent and graffiti resistant as well as impervious to moisture. And, their HDPE surface is naturally resistant to bacteria such as MRSA and staph, odors, mold and mildew.
Bob Royer of KS Heagy Contractors, Inc. of Lemoyne, PA, noted that Camp Hill Borough needed every construction dollar to be maximized. "Designers looked at the entire lifecycle of the project when selecting products," he said. "A long track record of longevity, durability and low-maintenance were key factors in the decision."
For the bathroom renovations, Scranton Products' Hiny Hiders partitions were chosen for the partitions, which are made with the same non-porous HDPE as the locker products and are very easy to clean. They can be power washed and steam cleaned without the worry of rust.
Another important factor in a school environment is that all Scranton Products' lockers and partitions are GREENGUARD Gold Certified (SM), meeting the strictest standards for improved indoor air quality. They also reduce industrial waste by using a blend of virgin and pre-consumer recycled content to produce a high quality product that is 100 per cent recyclable.
"Everyone involved with the Siebert Park renovation couldn't be happier with Scranton Products' support and quality of the complete range of products they provided—it truly has enhanced the new stadium and its facilities," said Royer.
About Scranton Products
For more than 25 years our premium brands have led the plastic partition& locker market setting new benchmarks for the industry in quality and innovation. Our well-known brands, including Hiny Hiders®, Resistall™,Tufftec® and Duralife®, feature the most durable, low maintenance and best looking partitions, lockers and industrial sheet products in the industry. They won't dent, rust or need painting, and because they have color throughout, delamination is not a factor. For more information, visit http://www.scrantonproducts.com.