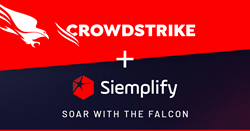 Combining Siemplify and CrowdStrike speeds up investigation, facilitates automation of threat hunting and enables security teams to seamlessly orchestrate response across all endpoints. – Dennis Shaya, Siemplify GM of North America
NEW YORK (PRWEB) July 20, 2021
Siemplify, the leading independent provider of security orchestration, automation and response (SOAR), today announced that its application is now available in the CrowdStrike Store, enabling CrowdStrike Falcon users to easily integrate with its SOAR solution for faster, more effective investigation and response.
The Siemplify app in the CrowdStrike Store combines the ability to build repeatable, automated playbooks with threat-centric case management, interactive investigation, collaboration and machine learning to make security operations smarter, more efficient and more effective. Meanwhile, the Siemplify Marketplace includes pre-packaged use cases that are tailor-made for CrowdStrike users, enabling Falcon users to hit the ground running with SOAR and realize value with minimal effort.
"We are thrilled to showcase the Siemplify Security Operations Platform to CrowdStrike's prospects and customers," said Dennis Shaya, Siemplify general manager of North America. "Combining Siemplify and CrowdStrike speeds up investigation, facilitates automation of threat hunting and enables security teams to seamlessly orchestrate response across all endpoints."
The CrowdStrike Store enables a single-agent, single-cloud ecosystem experience that allows customers to quickly activate new capabilities alongside the Falcon platform with unprecedented simplicity and without the need of additional agents or management of other infrastructures. Through the CrowdStrike Store, partners can bring innovation to market faster that serves the unique needs of customers across industries. The CrowdStrike Store leverages the power of the security cloud for both scale and rich telemetry, enabling partner applications to deliver faster, smarter and more effective solutions.
"The CrowdStrike Store was built to extend the power of the CrowdStrike Falcon platform through a curated and diverse partner ecosystem that provides instant interoperability with a variety of technologies to strengthen our customers' security posture and safeguard against modern, evolving threats," said Matthew Polly, CrowdStrike's vice president of worldwide alliances, channels and business development.
Combining Siemplify SOAR with CrowdStrike capabilities, security operations teams can ingest Falcon detection events and alerts, automate data collection to speed up investigation, and orchestrate response leveraging CrowdStrike remediation actions across all the endpoints at machine speed – all within one interface.
"As a vendor-agnostic SOAR provider, we proudly forge strong partnerships across the security ecosystem," Shaya said. "We're delighted to partner with CrowdStrike to make Siemplify available directly from its enterprise store."
For more information, visit siemplify.co and crowdstrike.com.
About Siemplify
Siemplify, the leading independent security orchestration, automation and response (SOAR) provider, is redefining security operations for enterprises and MSSPs worldwide. The Siemplify platform is an intuitive workbench that enables security teams to manage their operations from end to end, respond to cyber threats with speed and precision and get smarter with every analyst interaction. Founded in 2015 by Israeli Intelligence experts, with extensive experience running and training security operations centers worldwide, Siemplify has raised $58 million in funding to date and is headquartered in New York, with offices in Tel Aviv. Visit us at siemplify.co and follow us on LinkedIn and Twitter.