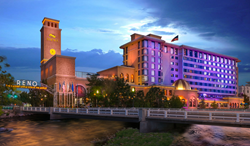 Reno, NV (PRWEB) April 01, 2014
Hundreds of Siena Rewards Members traveled to the Siena Hotel Spa Casino in Reno, NV on Sunday March 30th eager to place last minute drawing tickets into the $3,000,000 Pot of Gold Drawing Barrel. As the night came, so did the large crowd waiting in suspense for names to be selected from the drawing barrel. Guests anxiously waited to see if they would one of the lucky 10 drawn, and if they would have a chance at the life-changing $1,000,000 Roll for the Gold, a prize of nearly 50 pounds of solid gold!
The $3,000,000 Pot of Gold Drawing kicked off promptly at 10pm. As the announcer drew names out of the drawing barrel, the 10 lucky players joined him center stage. Each winner in turn selected a gold envelop. All received great prizes and one lucky player received $1,000 in free slot play and a chance to roll for $1,000,000 in gold. Lucky Siena Rewards Member Reynette Oakes picked the lucky envelop for her chance to roll the dice for two pairs of snake eyes and a life altering $1,000,000 in Gold. Excitement exploded throughout the casino floor and the crowd surrounded the Pot O' Gold Dice Table. Oakes rolled the dice and although she didn't roll two pairs of snake eyes for the $1 Million, she still walked away a winner.
"It was an incredible evening!" said Mike Vautrin, Director of Casino Marketing, "It's great to see so many of our guests so excited about our 3rd Anniversary Celebration. We've given away 26 solid gold coins in March with many more to come in April. Plus, we have two more chances for our guests to walk away with a $1,000,000 in gold at the end of April."
The Siena will have two more Grand Finale Drawings on April 26th and the final drawing on April 27th. The Pot O' Gold drawings are held every Friday, Saturday and Sunday at 6pm and 8:30pm. Winners from every drawing during March and April qualify for the grand finale drawing.
The family owned Siena Hotel Spa Casino welcomes everyone to join the celebration of their 3rd Anniversary. Earn entry tickets all through April for a chance to roll the dice for $1,000,000 in Solid Gold Bullion! Reno's Only Boutique Hotel Spa Casino on the River is proud to bring Reno a New Gold Standard in hotel accommodations and casino excitement!
About The Siena:
The new Siena Hotel Spa Casino is Reno's only riverfront 4 STAR hotel casino and recently received the prestigious 2013 TripAdvisor.com Certificate of Excellence Award and is the Number 1 rated Hotel in all Reno on HotelTonight.com. This boutique resort features newly remodeled rooms and suites, fabulous dining options, a world-class spa and an upscale casino. For more information on the Siena Hotel Spa Casino either phone 877-743-6233 or visit their website at http://www.SienaReno.com.