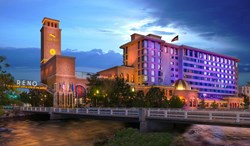 Reno, NV (PRWEB) September 10, 2013
The Siena Hotel Spa Casino in Reno, NV announced today that two lucky locals won brand new Chevy Sonics just days apart. Their first winner was selected during the August 24th Sonic a Day Giveaway drawing to spin the Siena's Super Spin wheel for his chance to win the vibrant red Chevy Sonic.
"I was shocked when my name was drawn to spin the wheel." Said the first winner a Siena Rewards Member. "I only had four tickets in the drawing!" He spun the wheel and the crowd went silent as they watched it go round & round. Once the wheel began to slow down, he then shouted "STOP!" as the wheel slowly passed by the Sonic Grand Prize space. The rewards winner said, "As soon as the wheel began to slow down and went past (the grand prize space) I remember thinking, It ain't gonna make it, but then the wheel just kept going slowly and landed on the next Sonic Grand Prize space." "I couldn't believe it, I just won a brand new car".
Just six days later, a lucky Sparks Nevada local was randomly selected to spin the wheel for her chance at a new Chevy Sonic. "I was so excited to spin the wheel, right before I did the first Sonic winner introduced himself and said, 'Shake my hand for some luck.' So I did, and it clearly worked!"
The Siena Rewards member went away as the second winner of the Siena's Sonic a Day Giveaway Promotion that continues throughout September. Players have the opportunity to win a Chevy Sonic every day. Drawings every day at 8:30pm and bonus drawings are at 6 p.m. every Sunday. Eight winners are selected with the first seven win various amounts of free play leading up to the eighth winner that spins the Siena's Super Spin wheel for their chance to win and drive away in a new Chevy Sonic.
David Halabuk a spokesman for the Siena stated "The Siena continues to provide impressive promotional giveaways and benefits for our guests and Siena Rewards Members. Our players are on a winning streak, and I can say having two people win new cars in six days that lightening has struck twice"
Beginning September 9th Siena is increasing the popular "Your First $200 Is On Us" promotion to an astounding $500. The New "First $500 Is On Us" promotion allows new Siena Rewards Members to receive up to $500 in free play based on their first 24 hours of slot play.
The Boutique Siena Hotel Spa Casino located on the banks of the Truckee River offers an intimate casino floor with innovative casino promotions and a winning atmosphere. The Siena's 4 star, award winning accommodations, and river front dining make this boutique property a truly unique experience. The Siena recently received the prestigious TripAdvisor Certificate of Excellence.
About The Siena: The new Siena Hotel Spa Casino, which reopened in 2011, is Reno's only riverfront 4 STAR hotel casinos. This boutique resort features newly remodeled rooms and suites, 3 signature restaurants, a world class spa and upscale casino. For more information on the Siena Hotel Spa Casino either phone 877-743-6233 or visit their website at http://www. SienaReno.com. For more information contact: Kylee Brooks Email: KBrooks@Sienareno.com