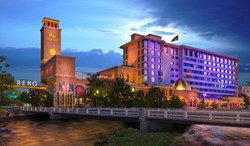 Reno, NV (PRWEB) October 02, 2013
The Siena Hotel Spa Casino in Reno, NV announced today that on September 30th, two more Siena Rewards Members won brand new Chevy Sonics.
These two winners follow five other lucky new car winners in just a few weeks. The winning seems to go on and on at the Siena. Interestingly, the intimate Siena Casino is far smaller than many casinos in Reno but seems to generate an endless supply of big winners. One player from San Jose commented, "Your odds are just way better at a smaller casino." The Siena's big promotions are becoming well known to both local and out of town players.
First time visitor Martin Barraza, from Newman, CA, was the Siena's first car winner on Sunday at the 6pm drawing. Within an hour after signing up for a Siena Rewards card, he was selected to spin the Siena's Super Spin Wheel and won a new Chevy Sonic.
Martin, who works in San Francisco, commented that he decided to stop by after seeing a Siena billboard outside of Sacramento promoting yet another of Siena's promotions, the "First $500 Is On Us" program. That program reimburses new slot players for losses up to $500, a guarantee that most can't pass up, including Martin.
During the Siena's second drawing at 8:30pm, another lucky Siena Rewards Member from Reno was selected to spin the wheel and lightning struck yet again. "I heard that someone at the 6 p.m. drawing won the car," said the Triple Diamond Guest. "I thought there was no way that it would hit again. Luckily it did!"
Bobby Ray Harris, General Manager of the Siena stated, "Our Sonic a Day Giveaway is bigger than anyone could have anticipated. Our players have been on an amazing winning streak. We have had 7 lucky Siena Rewards Members win brand new cars in just a few weeks and each was just as exciting as the first for our players and staff. We hope Chevrolet in Detroit can keep up with our giveaways!"
The Boutique Siena Hotel Spa Casino, located on the banks of the Truckee River, offers an intimate casino floor with great casino promotions and a winning atmosphere. The Siena's 4 star, award winning accommodations, and river front dining make this boutique property a truly unique experience. The Siena recently received the prestigious TripAdvisors Certificate of Excellence.
About The Siena:
The new Siena Hotel Spa Casino Reno's only riverfront 4 STAR hotel casinos. This boutique resort features newly remodeled rooms and suites, fabulous dining options, a world class spa and upscale casino. For more information on the Siena Hotel Spa Casino either phone 877-743-6233 or visit their website at http://www.SienaReno.com. For more information contact: Kylee Brooks Email: KBrooks(at)Sienareno(dot)com.