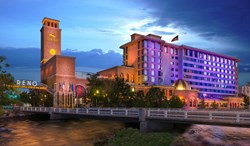 Reno, NV (PRWEB) October 03, 2013
One of the strongest player loyalty programs in Nevada was just announced by the Siena Hotel Spa Casino. They announced today that they have started offering the Ultimate Comp, up to 20% Cash Back on qualified play, as of October 1st. The boutique property located on the banks of the Truckee River is the only property in Reno giving cash back to players.
The way the lucrative program works is that if a player has a bad run of luck, the Siena will essentially refund up to 20% of that players loss for qualified play and is available for both table games and slots. The Siena Rewards club has all the details of the new Ultimate Comp player loyalty program. Certainly this is one of the strongest and most aggressive programs around for rewarding loyal players.
"We believe that our loyal players should get what they deserve and the Ultimate Comp™ Cash Back program gives us the opportunity to do just that. We truly appreciate our guests and players and this is just one more way we prove it whether they're Reno locals, from Sacramento or San Francisco or anywhere in the country," said Bobby Ray Harris of the Siena.
The Siena has become well known for their innovative promotions and player rewards. Interestingly, the intimate Siena Casino is smaller than many casinos in Reno but seems to generate an endless supply of truly unique promotions and player loyalty programs.
"It seems that other places are cutting back but the Siena keeps coming up with great new promotions that aren't just fun but very rewarding," said a local Siena Rewards Member. "Cash back is unheard of; I keep coming back for their promotions and they never let me down, I love the fact that they appreciate my play."
New Siena Rewards Members can also participate in the Siena's $500 Is On Us + Instant Upgrade Promotion. New members can receive up to $500 in free play based on their first 24 hours of slot play and can upgrade to the same status that they have earned at any other Reno casino. No more playing forever just to get to the next player level.
"The First $500 On Us promotion is our way of thanking new members for joining and Instant Upgrade just makes sense, we know they have worked hard for their status at another property, we match it because they deserve it, we don't want our players to do anything but enjoy themselves," said Harris.
About The Siena: The new Siena Hotel Spa Casino is Reno's only riverfront 4 STAR hotel casinos and recently received the prestigious TripAdvisors Certificate of Excellence. This boutique resort features newly remodeled rooms and suites, fabulous dining options, a world class spa and upscale casino. For more information on the Siena Hotel Spa Casino, either phone 877-743-6233 or visit their website at http://www. SienaReno.com.