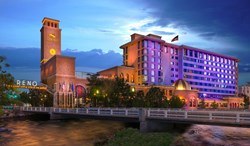 Reno, NV (PRWEB) December 11, 2013
The family-owned Siena Hotel Spa Casino in Reno, NV announced today that on Sunday, December 8th during their third Gift of a Lifetime Drawing, lucky local Harvey Brotzman won $10,000 instantly by selecting the correct five boxes from the Gift of a Lifetime Game Board.
Brotzman, a frequent visitor of the Siena, says, "There's easy access with parking right outside, friendly staff and great rewards."
A Siena Rewards Member, Harvey Brotzman has truly seen great rewards - just two months earlier Brotzman was selected to spin the Super Sonic Wheel & ended up driving away in a new Chevy Sonic during the Siena's Super Sonic Summer promotion. This time, he was selected to choose boxes from the Gift of a Lifetime Game Board comprised of five columns and five rows.
Prior to the drawing, VIP host Andrei Bustarde announced to the crowd "You know what time it is?" and Brotzman shouted out "It's time for me to win!" The crowd laughed, and moments later they were in awe when his name was selected.
"There was such amazing energy on the casino floor as Harvey selected each box and anticipation rose when he kept selecting boxes from the right column," said VIP Host Andrei Bustarde. "He selected his final box on the last level and right after he opened it he grabbed me and kissed me on the cheek!"
For Brotzman and many others the Siena has become their casino of choice due to its convenient parking, distinct location and stellar casino giveaways. As Reno's only casino offering players 20% Cash BackTM it is hard to dispute players' claims of the Siena having the best promotions in town. The Siena's intimate casino floor, innovative casino promotions and exciting atmosphere make it the locals' ideal place to play.
About The Siena:
The new Siena Hotel Spa Casino is Reno's only riverfront 4 STAR hotel casino. It recently received the prestigious TripAdvisor's Certificate of Excellence. This boutique resort features newly remodeled rooms and suites, fabulous dining options, a world-class spa and an intimate upscale casino. For more information on the Siena Hotel Spa Casino either phone 877-743-6233 or visit their website at http://www. SienaReno.com.