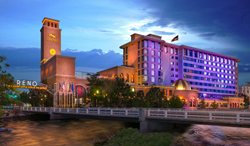 Reno, NV (PRWEB) May 19, 2014
The Siena Hotel Spa Casino in Reno, NV proudly announced today that Johnny Rockets will be opening on May 19th inside the family owned riverfront property. Johnny Rockets, home of the Original Hamburger and world renowned classic Americana dining, will be serving up all signature items of the iconic chain. The corporate-owned location will be the second location in Reno, NV and the only to provide ample outdoor seating. The unique location gives guests a beautiful view of the Truckee River while dining in Johnny Rockets playful environment.
"We strive to provide guests of the Siena a fun and lively environment, the only logical match was Johnny Rockets," said General Manager of the Siena, Jeff Pepple. "We couldn't be more excited to have them here; we know they will enhance the experience of each guest with their interactive dining experience and friendly customer service."
Partnership was natural as Jonny Rockets has found great success in nontraditional locations that embody similar energy as the world famous brand. The reputable Johnny Rockets will be celebrating their 28th anniversary this year and continue to open various locations throughout the world. The riverfront location inside the Siena plans to be open Sunday through Thursday 7 a.m. to 11 p.m. and Friday and Saturday 7 a.m.-1 a.m.
The boutique Siena Hotel Spa Casino is located on the banks of the Truckee River, offering first class accommodations, a full-service spa, and an intimate casino floor with a winning atmosphere. The Siena is well known for some of the most rewarding player promotions in all of northern Nevada including their First $500 On Us and 25% Cash Back offers.
The Siena's award-winning accommodations and dedication to providing world class, riverfront dining makes this boutique property a truly unique experience for Reno residents and visitors alike.
About The Siena: The new Siena Hotel Spa Casino is Reno's only riverfront 4-star hotel casino and recently received the prestigious 2013 TripAdvisor.com Certificate of Excellence Award and is the Number 1 rated Hotel in all Reno on HotelTonight.com. This boutique resort features newly remodeled rooms and suites, fabulous dining options, a world-class spa and an upscale casino. For more information on the Siena Hotel Spa Casino, either phone 877-743-6233 or visit their website at http://www.SienaReno.com.