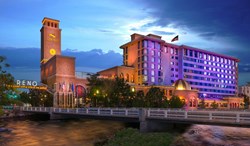 Reno, NV (PRWEB) January 21, 2014
The Siena Hotel Spa Casino in Reno, NV announced that they had two jackpot winners during the first two weeks of their Blizzard of Free Play January Promotion. The latest winner, Jacquelyn Aaby of Renton, WA won $10,000 in free play on Sunday the 12th. Just one week prior on Sunday the 5th, another Siena Rewards Member from Portola, CA won $10,000 in free play too.
The Siena's $1,000,000 Blizzard of Free Play Drawings are every Friday, Saturday and Sunday in January. Three drawings are held each day, at 7pm, 8pm and 9pm where winners are selected at each to spin the wheel for up to $10,000 in Free Play instantly.
The Siena's intimate casino floor frequently awards promotion winners with cash, free play, cars and more. Reoccurring wins on slot and table games enhance the winning atmosphere of casino floor.
"I love the energetic atmosphere of the property," said Blizzard of Free Play Winner Jacquelyn Aaby "I feel lucky here and for good reason, my name for the drawing occurred right after I had won a jackpot on a slot machine!"
Visitors say that unique casino promotions are one of the many reasons they have made the Siena Hotel Spa Casino their resort of choice in Reno.
"I feel appreciated here, I'm not just another number," said a Local Siena Rewards Member, "Even if my luck turns, I get 25% (cash) Back."
The Siena is Reno's only Casino offering players up to 25% Cash Back on qualified play. Siena Rewards Members that lose $200 or more in a promotional month will be qualified for up to 25% Cash Back.
"It is our goal to enhance the players experience any way we can, one of the many ways is by offering unique promotions and incentives to players," said Mike Vautrin, Siena Casino Marketing Director. "Our new 25% Cash Back is our way to thank guests for choosing the Siena."
The boutique Siena Hotel Spa Casino is located on the banks of the Truckee River and offers an intimate casino floor with innovative casino promotions and a winning atmosphere that excites everyone. The Siena's award winning accommodations and river view dining makes this boutique property a truly unique experience for Reno residents and visitors.
About The Siena: The new Siena Hotel Spa Casino is Reno's only riverfront 4 STAR hotel casino and recently received the prestigious 2013 TripAdvisor.com Certificate of Excellence Award. This boutique resort features newly remodeled rooms and suites, fabulous dining options, a world-class spa and an upscale casino. For more information on the Siena Hotel Spa Casino either phone 877-743-6233 or visit their website at http://www.SienaReno.com.