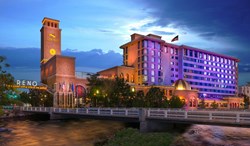 Reno, NV (PRWEB) February 13, 2014
The Siena Hotel Spa Casino in Reno, NV proudly announced today that they have been inducted as one of newest members of the Reno Riverwalk Merchants Association. It is the first and only Hotel Casino to serve as a Riverwalk member. The family owned Siena, located on the banks of the Truckee River, is an advocate of Reno Downtown Revitalization since its new ownership in 2011. The Siena feels that partnering with the Riverwalk allows them to contribute at a higher caliber to the awareness and growth of its surrounding area.
"The Siena takes great pride in its distinct location along the banks of the Truckee River," said General Manager, Jeff Pepple. "We are honored to help contribute to the efforts of the Riverwalk District; they (Riverwalk Merchants) are all so passionate about the area and its mission. We look forward to assisting in the enhancement and awareness of the Riverwalk and the many benefits it brings to visitors."
The Siena will be an active member of the Riverwalk District. Plans include participation in the popular Wine Walk events each month beginning in March and various other events including one of the Siena's own in October this year.
Although a new member to the Riverwalk Merchants Association, the Siena's commitment to local business growth is nothing out of the ordinary. The Siena has a long standing partnership with the Pioneer Center, National Automobile Museum, Reno Tahoe Comedy Club and Reno Aces, the Arizona Diamond Backs AAA team. In addition, the Siena features local foods like HUB Coffee Roasters, which is served in the Coffee Bean and Bakery in the Siena. Other partnerships include Tahoe Cheese, French Gourmet, Model Dairy and others.
"We are a small family-owned property and, as Reno's only boutique hotel spa casino, we strive to give a truly unique experience from our individually designed rooms and location, to the unmatched food and service we provide," said Pepple.
The Siena's award winning accommodations, river front dining, intimate spa and electrifying casino gives guests to the boutique property a charming experience that reflects its dedication to a prosperous local community.
About The Siena:
The new Siena Hotel Spa Casino is Reno's only riverfront 4 STAR hotel casino and recently received the prestigious 2013 TripAdvisor.com Certificate of Excellence Award. This boutique resort features newly remodeled rooms and suites, fabulous dining options, a world-class spa and an upscale casino. For more information on the Siena Hotel Spa Casino either phone 877-743-6233 or visit their website at http://www.SienaReno.com.