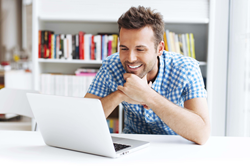 Too many businesses pay to have an incredible video produced, but fail to use it to its full potential.
Everett, WA (PRWEB) September 23, 2014
According to Baker Built Works recently released video series and newly released eBook, a large percentage of businesses that are paying to have corporate video productions are failing to fully utilize YouTube as a part of their marketing campaign.
Why all the fuss? The eBook explains that despite over 100 hours of video footage being uploaded to YouTube each minute, it is the second largest search engine in the world and one of the best media platforms ever created.
How does a business successfully stand out among the deluge of video content, though? That is what Baker Built Works aims to explain. They provide tips on the setup and structure of a YouTube channel, how to properly upload a video, and how to correctly fill out the YouTube channel copy, including advice on keywords and site linking.
To learn more about Baker Built Works, check out their website for a look into their professional video content: http://bakerbuiltworks.com/
"This is a huge need for businesses," says Daniel A. Cardenas, founder of Baker Built Works, a project of the massive Sierra Media Studios of Seattle Washington. "We see too many businesses have an incredible video produced but fail to use it to its full potential. We created this eBook to help change that. We want to help our clients become as successful as they possibly can."
Learn more about Sierra Media and Baker Built Works:
Daniel A. Cardenas founded Sierra Media, Inc. in 1987. Sierra Media has had years of experience creating innovative, engaging, and effective videos for a variety of industries, from billion dollar enterprise clients to start ups. Their goal is to produce great videos that tell stories which attract viewers to a companys key message. Sierra Media captures the authentic voice of their clients and uses it to tell their stories through the videos that they produce.
Sierra Medias corporate offices are located at 2815 Baker Avenue Suite #201, Everett, WA, but they serve clients mainly throughout Washington State, but they also have several clients along the west coast in Oregon and California.
Contact:
Lexi Ryman
Marketing Manager
lexi(at)sierra-media(dot)com
425.259.4429