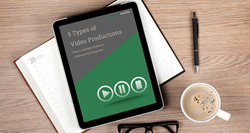 The various styles of shooting, film, and video production leave a world of possibilities open for your video creation.
Everett, WA (PRWEB) August 05, 2014
When it comes to designing strategic video productions for a marketing campaign, Sierra Media has lots of experience. In the recent years and the surge toward videos with extreme visual and auditory appeal, Sierra Media has sought to stay on the cutting edge of video technology, while remaining grounded on the types of video that they've seen produce the best results for marketing campaigns.
Their newly released eBook, available for free download on their website, explains to businesses and marketing consultants that whatever extra visual effects, digital designs, and auditory wonders may be included in their video production, it ultimately boils down to one of five types of video—brand story, spokesperson, product showcase, how-to, or a testimonial / case study.
"The various styles of shooting, film, and video production leave a world of possibilities open for your video creation. There are, however, at the base of the most creative and innovative videos, some tried and true methods, some base-line strategies, that seem to work out the best," says Sierra Media.
To learn more about the video production services of Sierra Media, follow this link: http://sierra-media.com/
The purpose of their newly developed eBook is to provide marketers with the information behind these five basic types of video and explain why each type can be such an important tool for marketing purposes.
"Use these five types of videos to tell your story, move your company goals forward, entice viewer's interest in your product or service, and explain how your business can fill their needs," says Sierra Media.
Learn more about Sierra Media:
Daniel A. Cardenas founded Sierra Media, Inc. in 1987. Sierra Media has had years of experience creating innovative, engaging, and effective videos for a variety of industries, from billion dollar enterprise clients to start ups. Their goal is to produce great videos that tell stories which attract viewers to a company's key message. Sierra Media captures the authentic voice of their clients and uses it to tell their stories through the videos that they produce.
Sierra Medias corporate offices are located at 2815 Baker Avenue Suite #201, Everett, WA, but they serve clients mainly throughout Washington State, but they also have several clients along the west coast in Oregon and California.
Contact:
Lexi Ryman
Marketing Manager
lexi(at)sierra-media(dot)com
425.259.4429