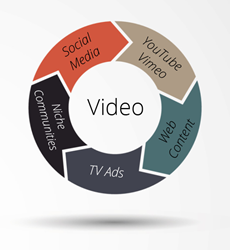 The ability to utilize excellent video production in corporate marketing is taking marketing campaigns to the next level.
(PRWEB) July 15, 2014
"Our world is now a digital playground," says Daniel A. Cardenas, founder and creative director of Sierra Media in his recent article, "Where are people these days? - They're on their smart phones, tablets, and laptops, perusing their news feeds, tweets, emails, photos, and videos. And what appeals to these people? - Personal, creative stories that entertain, motivate, and immerse them."
What better way to provide these stories than with video? The recently released article by Sierra Media, "Marketing In a Digital World," states that modern day marketing departments need to understand the importance of allowing video to take center stage in their marketing campaign.
See some of Sierra Media's professional video productions by visiting: http://sierra-media.com/
The recent shift from traditional to digital marketing strategies that followed the advent of the internet has changed the marketing environment. As a result, marketing companies have begun to switch from having a digital component to their marketing campaigns to having a primarily digital focus to their entire marketing strategies.
A necessary result of this change is the need for production and utilization of excellent videos. In fact, Sierra Media suggests that placing a video at the center of the marketing campaign and pushing it out through all digital channels can be one of the most powerful ways to reach consumers.
"Think about it—a video can be easily and effectively pushed out through every social media channel available," Sierra Media points out, "Videos are effective imbedded in blog posts, in website content, and don't underestimate the value of a YouTube campaign as part of a marketing platform to reach audiences."
Businesses that are serious about their marketing campaigns would do well to read Sierra Media's insightful and informative article to make their strategies perform at their peak.
Learn more about Sierra Media:
Daniel A. Cardenas founded Sierra Media, Inc. in 1987. Sierra Media has had years of experience creating innovative, engaging, and effective videos for a variety of industries, from billion dollar enterprise clients to start ups. Their goal is to produce great videos that tell stories which attract viewers to a companys key message. Sierra Media captures the authentic voice of their clients and uses it to tell their stories through the videos that they produce.
Sierra Medias corporate offices are located at 2815 Baker Avenue Suite #201, Everett, WA, but they serve clients mainly throughout Washington State, but they also have several clients along the west coast in Oregon and California.
Contact:
Lexi Ryman
Marketing Manager
lexi(at)sierra-media(dot)com
425.259.4429