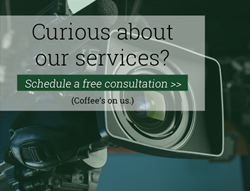 Having an amazing video produced for your business is only half the step—now you must know how to promote it.
Seattle, WA (PRWEB) July 30, 2014
Sierra Media, a video production company founded by creative director Daniel A. Cardenas, knows that unless a business knows what to do with a high-quality well-produced video, there isn't much point in producing it in the first place. Because of this, they've spent years tracking the best uses of video in marketing.
Their recent article "You've Got Video—Now What?" answers the questions that large business and corporate marketing departments have been asking about what do with their video once it's been produced. The article provides in-depth information about the various online marketing tools available to every business or corporation.
For information on Sierra Media's creative and high-quality video productions: http://sierra-media.com/
Firstly, they advise that beyond simply placing the video on a website, a company should broaden its online reach. Writing a blog post that highlights the newly created video or creating a press release to announce its advent are both excellent and easy ways to increase the amount of social interaction and viewing that videos can attain.
The article also stresses the importance of uploading videos to YouTube, the second leading search tool (second only to Google). From there, they advise pushing the video out through every available social media platform and online community possible.
Facebook, Twitter, LinkedIn, Google+, and more are included in Sierra Media's 'how-to' guide for using videos to create incredible spikes in brand awareness, in user engagement, and ultimately, in revenue.
About Sierra Media
Daniel A. Cardenas founded Sierra Media, Inc. in 1987. Sierra Media has had years of experience creating innovative, engaging, and effective videos for a variety of industries, from billion dollar enterprise clients to start ups. Their goal is to produce great videos that tell stories which attract viewers to a companys key message. Sierra Media captures the authentic voice of their clients and uses it to tell their stories through the videos that they produce.
Sierra Media's corporate offices are located at 2815 Baker Avenue Suite #201, Everett, WA, but they serve clients mainly throughout Washington State, but they also have several clients along the west coast in Oregon and California.
Contact:
Lexi Ryman
Marketing Manager
lexi(at)sierra-media(dot)com
425.259.4429