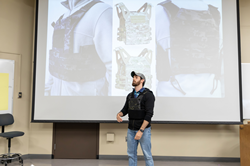 Through Startup Pitch Mentor Round, industry partners are mentoring student entrepreneurs as they launch startups conceived at Sierra College.
ROCKLIN, Calif. (PRWEB) November 14, 2019
Sierra College Startup Pitch Mentor Round will be held on November 20 to connect entrepreneurs, students, successful founders and community members as part of Global Entrepreneurship Week. The event will be held on the Rocklin campus, 5100 Sierra College Boulevard, in the Fireside room adjacent to the cafeteria from 6-8 pm, and free tickets for this startup event are available online.
"Sierra College has many resources to help those who dream of starting their own businesses," said Amy Schulz, Dean, Business and Technology Division, Sierra College. "We appreciate our industry partners who are mentoring students as they launch startups conceived in a Sierra College business class."
Thomas Hall, Executive Director, CleanStart, will speak on the resources his Folsom-based organization provides to small business startups. CleanStart empowers entrepreneurs with the knowledge, capital and connections to support the success of new clean tech companies in the greater Sacramento region. Locally, the core clean tech sector has over 85 companies that employee 5,065 people and generate $3.1 billion in revenue.
Sierra College students who have developed business plans will pitch their startup ideas to mentors who are successful founders of businesses in the Sacramento region. Pitches will be made by Sam Ballard and Sean Namnny, developers of a real-time mobile advertising platform to promote the arts and community events as well as Cierra Creter, Sierra College student, who is pitching a subscription service. Additionally, several Sierra College students will be making shorter elevator pitches.
As part of the program, the mentors provide advice to the students and audience members gain insights into the entrepreneurial mindset, explained Steve Ricketts, Founder, SRickettsConsulting, who developed Startup Pitch Mentor Round with Sierra College. "Mentors are contributing their time to inspire future entrepreneurs," said Ricketts. "There is no charge for student entrepreneurs to apply to pitch or receive feedback from the mentors. By offering honest advice and referrals to resources, as well as this live feedback in an open forum, we can support entrepreneurship in the community."
The mentors are successful Sacramento area founders and business leaders, including:

David Dwelle, Co-Founder, Flyers Energy, LLC and Pacific Power Renewables;
Jason France, Founder, President and Sole Owner, ClipperCreek, Inc.;
Mark Haney, Founder, CEO, HaneyBiz and Host, The Mark Haney Show and Monique Brown, VP Operations, HaneyBiz;
Rand Heer, Founder, CEO, Piller Corporation and Alight, Inc.;
Aaron Klein, Co-Founder, CEO Riskalyze, Inc.;
Dr. Grover Lee, Founder, CEO, Wise Villa Winery and American Health Care;
Bridget Powers, Former Mayor of Auburn and President, JxB Properties;
Don Whitaker, Founder, CEO, CERONIX, Inc.;
Craig Mitchell, Partner, DCA Partners, LLC;
Debbie Lowe Muramoto, Director, Women's Business Center;
Eric Ullrich, Co-Founder, Hacker Lab; and
Steve Ricketts, Founder SRickettsConsulting.
"Startup Pitch Mentor Round allows students to practice communicating and validating their ideas to potential stakeholders," said Dennis Wingate, Business faculty member, Sierra College and successful founder. "It also connects them with valuable mentors who can provide guidance and sometimes support to help them navigate the pre-launch and launch process." Wingate indicated that six former students have launched businesses or are in pre-launch.
Get tickets for the November 20 Startup Pitch Mentor Round. For more information, contact Steve Ricketts at sricketts(at)cebridge.net or (530) 878-0112.
Sierra College District is rising to the needs of our community. Sierra College serves 3200 square miles of Northern CA with campuses in Roseville, Rocklin, Grass Valley, and Truckee. With approximately 125 degree and certificate programs, Sierra College is ranked first in Northern California (Sacramento north) for transfers to four year universities, offers career/technical training, and classes for upgrading job skills. Sierra graduates can be found in businesses and industries throughout the region.