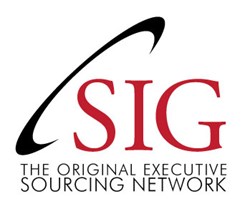 Our events bring the latest in thought leadership, which we draw from for our blog entries.
San Francisco, CA (PRWEB) November 27, 2013
SIG, the premier membership organization for sourcing, procurement and outsourcing executives, today announces the launch of a new blog aimed at sourcing industry professionals. Officially unveiled in June, the series aptly titled "SIG Speaks: A Sourcing Industry Blog" covers topics relevant to sourcing, outsourcing and procurement professionals, and even to attending industry events.
"We know there are a lot of industry blogs out there," said SIG CEO and President, Dawn Evans. "But few of them have access to the content, best practices and innovative ideas we get from SIG members. Our events bring the latest in thought leadership, which we draw from for our blog entries."
Several SIG team members author the blog including CEO Dawn Evans, as well as: Sarah Holliman, Vice President of Marketing; Mary Zampino, Director of Global Sourcing Intelligence; and Celia De Benedetti, Marketing Manager. SIG also allows members to contribute guest blog entries on a periodic basis.
The blog, which is already going to SIG's broad subscriber base, is available to non-SIG members by email subscription."We are having a lot of fun with this blog," said Sarah Holliman, Marketing Vice President. "Not only do we have the opportunity to cover the hottest topics our members are facing, but we can also write in a style that showcases our different personalities and areas of expertise."
Blogs have covered current sourcing topics such as big data, crowd sourcing and conflict minerals, as well as issues such as risk management, governance, globalization and talent management. The blog also provides tips for better presentations, effective networking and getting the most out of industry events. "We are very excited by the traction our blog has received," said Evans. "We have great plans for its future, including a fun interview series, so stay tuned for more and subscribe!"
About SIG
SIG, http://www.sig.org is a membership organization that provides thought leadership and networking opportunities to executives in sourcing, procurement and outsourcing from Fortune 500 and Global 1000 companies. It has served these professionals and opened dialogues with their counterparts in finance, HR, marketing and other business functions throughout its 22-year history. SIG is acknowledged by many as a world leader in providing "next" practices, innovation and networking opportunities through its: global and regional events, online webinars and teleconferences, member peer connection services, content-rich website and online Resource Center, which was developed by and for professionals in sourcing and outsourcing. The organization is unique in that it blends practitioners, service providers and advisory firms in a non-commercial environment.