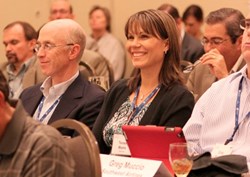 ...some of the best 'Aha!' moments occur when you hear how an organization in a completely different industry has approached an issue.
San Francisco, CA (PRWEB) September 13, 2013
SIG, the premier membership organization for sourcing, procurement and outsourcing executives, is holding a Global Leadership Summit at the Fort Worth Omni Resort in Fort Worth, Texas.
"The content for each of our events is driven by the issues our Fortune 500/Global 1000 member companies are facing," said SIG CEO and President Dawn Evans. "We've seen a major evolution from discussions centered on 'Strategic Sourcing 101' to in-depth roundtables on conflict minerals, talent management, crowdsourcing and other topics affecting our executive audience. There are still a lot of companies that are in their infancy with regards to strategic sourcing, yet many organizations have very mature sourcing and outsourcing practices. SIG events allow companies of ALL levels to learn from one another."
Jeff Felix, SIG COO added, "It is incredible to watch the learning that take place cross-industry. Many people think they need to find a company in the same 'space' to learn from. We have found that some of the best 'Aha!' moments occur when you hear how an organization in a completely different industry has approached an issue. The networking and sharing of immediately implementable solutions are what make SIG Summits so special."
SIG Summits bring executives from Fortune 500 and Global 1000 companies together to access the latest innovations, network and discuss issues and best practices in sourcing, procurement, outsourcing, offshoring, and nearshoring. During the three-day agenda, senior buy-side executives from a variety of industries—including financial services, retail, consumer packaged goods, healthcare, manufacturing and many others—will share successes and failures, engage in open dialogues and address challenges. "Having companies like Nike, Ann Inc., Target, P&G and Microsoft share their challenges provides a learning environment that is second to none," adds Evans.
The event kicks off Monday night, October 14 with pre-registration and a networking reception, followed by three full days of keynotes, breakout sessions, roundtables and networking events. The four SIG Summit keynotes, and nearly 50 breakout sessions are presented by global brands and cover top-of-mind issues ranging from leadership to talent management to sourcing transformation. For more information or to register, visit http://sig.org/summits-fort-worth.php.
About SIG
SIG, http://www.sig.org, is a membership organization that provides thought leadership and networking opportunities to executives in sourcing, procurement and outsourcing from Fortune 500 and Global 1000 companies. It has served these professionals and opened dialogues with their counterparts in finance, HR, marketing and other business functions throughout its 22-year history. SIG is acknowledged by many as a world leader in providing "next" practices, innovation and networking opportunities through its: global and regional events, online webinars and teleconferences, member peer connection services, content-rich website and online Resource Center, which was developed by and for professionals in sourcing and outsourcing. The organization is unique in that it blends practitioners, service providers and advisory firms in a non-commercial environment.