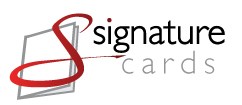 I am excited about the prospect of reaching our goal and using the funds to expand our current Business Greeting Card line.
Raleigh, NC (PRWEB) October 01, 2013
Signature Cards, a business greeting card company, has reached 4% of its $9,800 crowd-funding project goal during their first week using RocketHub. The project to create and produce 48 new Business Greeting Cards is being hosted on RocketHub, a crowdfunding platform that has recently partnered with A&E Television to launch Project Startup, which is dedicated to finding and funding innovative entrepreneurial projects.
Signature Cards provides business greeting cards to professionals and business owners who want to keep in touch with their clients or customers using unique image greeting cards. In an effort to expand their Business Greeting Card line, Signature Cards launched the fundraising campaign using the popular RocketHub crowd-funding platform.
Paul Reiss owner of Signature Cards stated: "I am excited about the prospect of reaching our goal and using the funds to expand our current Business Greeting Card line. Without this project, it could take me years to expand our Business Greeting Card line by this many cards. I encourage everyone to take a look at our project and share it with friends and associates."
The newly raised funds will allow Signature Cards to expand their Business Greeting Card line by forty-eight cards. This project is focused on the creation and production of those forty-eight Business Greeting Cards. These new Business Greeting Cards will fall into seventeen different categories, which consist of: Birthday, Thank You, Realtor & Mortgage, Keep In Touch, New Year, Groundhog Day, Valentine's Day, Presidents' Day, Daylight Savings, Springtime, Earth Day, Memorial Day, July 4th, Summertime, Labor Day, Fall & Thanksgiving and Holiday.
To participate in the Signature Cards fundraising project on RocketHub, interested individuals can make donations on the Signature Cards project page by going to: http://www.rockethub.com/projects/33063-business-greeting-cards-add-the-personal-touch-to-business.
About Signature Cards:
Parent company Signature Greetings, LLC was founded by Paul Reiss in January 2009 and is located in Raleigh, NC. Signature Greetings provides a way for individuals to start their own greeting card mailing business. Since 2009, Signature Greetings has been offering their business greeting cards exclusively to their distributors in the U.S. Starting in January 2011, Signature Greetings began offering its Signature Cards business greeting card line to professionals and small business owners via the Signaturecards.net website.