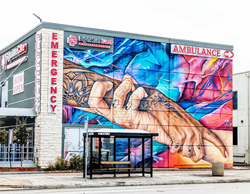 The mural was designed for the community. We want them to admire and enjoy it. That is exactly why we created it so the community can enjoy it.
HOUSTON (PRWEB) February 01, 2023
SignatureCare Emergency Center has unveiled a mural aimed at honoring Houstonians and the company's employees who worked tirelessly in the last few years to help their communities weather the effects of COVID and medical challenges.
Called 'Stronger Together,' the mural was created by Houston Muralist Sebastien Boileau and can be seen on the side of SignatureCare Emergency Center ER in Montrose, Houston, TX, at 3209 Montrose Blvd., Houston, TX 77006 (Google Map).
Mr. Boileau said he created the beautiful mural to show the strength of Houston residents and the diversity that makes the city of Houston special.
This mural "represents the strength that Houstonians can display towards each other during tough times but also the beautiful diversity that makes this city so special," he said in Houston, TX.
Dr. Christopher Langan, MD, an Emergency Medicine Physician and Chief Operating Officer (COO) of SignatureCare Emergency Center said the mural is an effort to show the company's appreciation to the community, for choosing SignatureCare for all their family's emergency medical needs.
"For nearly a decade, the community chose SignatureCare Emergency Center as the ER they go to for all their family's medical emergencies. We want to show them that we appreciate them so much," he said.
Dr. Langan said that these last few years have been tough for the community with COVID and other emergencies but the community stood strong together.
"These last few years were not easy on anyone bit it has been wonderful to see the community come together time and again when the situation called for us to come together. We as a community are resilient and strong,' he added.
He urged Houstonians to stop by and enjoy the mural anytime they are around Montrose or in Downtown Houston area.
"The mural was designed for the community. It's like an icon in the center of our city of Houston. We want them to admire and enjoy it. That is exactly why we created it so the community can enjoy it," he said.
About SignatureCare Emergency Center
Houston, TX-based SignatureCare Emergency Center owns 24-hour emergency centers throughout Texas, including Atascocita/Humble, Killeen, Austin, College Station/Bryan, Paris, Midland, Odessa, Texarkana, Spring, and Lewisville, TX. We also have nine ER locations in the Houston area, including in Montrose, Houston Heights, Cypress/FM 1960, Copperfield, Memorial City, Westchase, Bellaire, Mission Bend/Sugar Land, and Stafford.