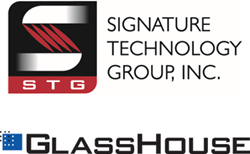 Our continuous evolution is a commitment to our customers that they can continue to rely on us to be their primary data center services solution partner.
Phoenix, AZ (PRWEB) April 16, 2014
Signature Technology Group (STG), a leading provider of data center services, announced today the completion of its acquisition of the US Consulting division of GlassHouse Technologies. The purchase continues the expansion of STG's customer footprint and North American presence, while expanding its Professional Services capabilities.
"The Glasshouse US Consulting organization is one that is known for its thought leadership, its deep technical aptitude, and for its focus on delivering customer satisfaction. We are thrilled to be having such professionals joining the STG family and knowing that our values are so well aligned," said Charles Layne, STG President and CEO.
"A long-time partner of GlassHouse, STG is well known for its focus on leading edge data center and cloud technologies and its legendary customer service. We share the same technology focus and values, and are thrilled to be joining forces with STG," said Steve Sharp, Chief Executive Officer of GlassHouse Technologies, Inc.
As part of the acquisition, Signature Technology Group will bring all of the GlassHouse US Consulting teammates into the organization, including: delivery management, consultants, technical contractors, project managers, and account executives. STG is committed to minimizing any disruption to the existing GlassHouse customer base, while enhancing their technical support structure and driving continuous improvement to deliver legendary service.
"STG continues to be focused on delivering the highest quality services to our customers and partners that allow them to maximize their IT investments. Our continuous evolution is a commitment to our customers that they can continue to rely on us to be their primary data center services solution partner," said Layne.
As STG continues to grow, STG recognizes that its teammates are its differentiator. Together with STG's current service offerings, the consulting division will add incremental offerings that complement the current IT professional services practice. STG will add a number of highly skilled and experienced consultants focused on the following divisions: Data Center/Migration, Virtualization/Cloud, and Strategy. These team members focus on strategy, including assessments and modernization work, and deployment, which includes delivery and implementation.
This is STG's second professional services expansion in the past six months, with the first expansion focused on security and government solutions. According to STG Vice President, Aaron Zeper, "The ability to expand our services with the caliber of technical talent, foundation of processes, and intellectual property that Glasshouse has developed, will allow us continued growth and improvements in the quality of services we deliver to our collective clients."
"It is an exciting time to be with Signature Technology Group. As a top ten channel data center services provider, we are growing our employees, our customer base, and our revenue, as we collaborate to deliver legendary service," said Layne.
About GlassHouse Technologies
GlassHouse guides customers through the complexities of cloud, virtualization, storage, security and workspace through vendor-independent data center infrastructure consulting and managed services. We consider the people, processes, policies and technology already in place then create a customized plan that mitigates risk, reduces cost and improves efficiency, driving business value rather than technology outcomes. We help clients evolve to a services-enabled data center model, providing on-demand, elastic services and agility, and enabling IT to focus on innovation. For more information, visit http://www.glasshouse.com, visit the GlassHouse blog for expert commentary on key data center issues, and follow us on Twitter @GlassHouse_Tech.
About Signature Technology Group
Signature Technology Group (STG) is a leading technology solutions provider. Founded in 1990 and headquartered in Phoenix, Arizona, STG specializes in helping clients reduce risk, improve efficiency and maximize the utilization rate of their IT infrastructure throughout North America. STG provides maintenance service solutions across all technology platforms and multiple OEM providers, in addition to IT professional services and technical staffing. For more information, please visit http://www.signaturetechnology.com.