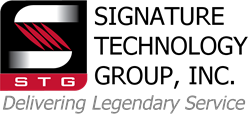 It is an exciting time to be with Signature Technology Group. As a top ten channel data center services provider, we are growing our employees, our customer base, and our revenue, as we collaborate to deliver legendary service.
Phoenix, AZ (PRWEB) November 01, 2013
Signature Technology Group (STG), a leading provider of data center services, announced today the completion of its acquisition of GlassHouse Technologies' Customer Support Services (CSS) division. The purchase continues the expansion of STG's global customer footprint, while also increasing its coverage, worldwide, for its support and delivery services.
"The acquisition of CSS is one that fits into STG's strategic objectives of international expansion, while continuing to leverage STG's existing worldwide technical expertise. We believe that by bringing our two organizations together, our customers will benefit from two best in class organizations," said Charles Layne, STG President and CEO.
"We feel the STG acquisition of our CSS business is one that makes the most long term sense for our valued customers. STG's experience and long term focus on data center post warranty support services matches perfectly with the needs of the CSS customer group," said Jeff Wakely, Chief Financial Officer and Treasurer of GlassHouse Technologies, Inc.
As part of the acquisition, Signature Technology Group will bring all of the CSS teammates, management team, and world class processes into the organization. STG is committed to minimizing any disruption to the existing CSS customer base, while enhancing their technical support structure and driving continuous improvement to deliver legendary service.
"STG believes in hiring only the best teammates, and the CSS organization represents quality service delivery and a deep commitment to servicing the customers. We believe that this is a win-win for our existing customers, as well as CSS's customers given the complimentary support that each firm brings to the table," said Layne.
As STG continues to grow, STG recognizes that its teammates are its differentiator. With this acquisition, CSS will continue to round out STG's complete portfolio of services: data center maintenance services, professional services and delivery, and IT technical staffing.
According to Kevin Nohl, STG VP of Technology and Consulting Services, "The CSS acquisition brings a strong international presence to the STG offerings and customer base. STG now provides high quality customer support and service delivery in over 50 countries and 250 international cities while managing millions of dollars of active inventory for our international customers. With the acquisition, STG's portfolio of managed devices includes state of the art network and storage devices that requires a company with both international presence and strong engineering talent to meet and exceed the customer's expectations."
With the addition, STG continues to expand its technical support globally, increase OEM support, and improve parts and logistics distribution, while focusing on the overall customer experience. STG will now have a presence and technical expertise, via its managed workforce model, into 192 countries and leveraging over 32,000 technicians.
"It is an exciting time to be with Signature Technology Group. As a top ten channel data center services provider, we are growing our employees, our customer base, and our revenue, as we collaborate to deliver legendary service," said Layne.
About GlassHouse Technologies
GlassHouse guides customers through the complexities of cloud, virtualization, storage, security and workspace through vendor-independent data center infrastructure consulting and managed services. We consider the people, processes, policies and technology already in place then create a customized plan that mitigates risk, reduces cost and improves efficiency, driving business value rather than technology outcomes. We help clients evolve to a services-enabled data center model, providing on-demand, elastic services and agility, and enabling IT to focus on innovation. For more information, visit http://www.glasshouse.com, visit the GlassHouse blog for expert commentary on key data center issues, and follow us on Twitter @GlassHouse_Tech.
About Signature Technology Group
Signature Technology Group (STG) is a leading technology solutions provider. Founded in 1990 and headquartered in Phoenix, Arizona, STG specializes in helping clients reduce risk, improve efficiency and maximize the utilization rate of their IT infrastructure throughout North America. STG provides maintenance service solutions across all technology platforms and multiple OEM providers, in addition to IT professional services and technical staffing. For more information, please visit http://www.signaturetechnology.com.