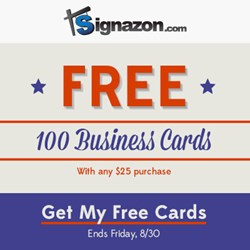 It's our hope that complimentary business cards could be just the networking tool [our customers] need to land that big client or another great opportunity. —Rick Debus
CEO, Signazon.com
Dallas, TX (PRWEB) August 27, 2013
In celebration of Labor Day 2013, custom printing company Signazon.com is extending a special offer to all of its customers. Now through Midnight on Friday, August 30th, Signazon.com customers can receive 100 free business cards with any $25.00 purchase.
As a leader in the highly-competitive small business marketing and custom printing industry, Signazon.com offers a wide variety of resources for businesses of all sizes. Its products include outdoor signage like yard signs and banners, vehicle signage such as car magnets and rear window graphics, plus marketing materials for distribution, including flyers, brochures, and, of course, business cards. With a selection of fully-customizable design templates, Signazon customers can create a personalized business advertisement in just a few quick steps.
To take advantage of this offer, Signazon customers should add at least $25 worth of product to their shopping cart, as well as 100 of Signazon's 2"x3.5" business cards, which are printed on a 14pt Cover stock. After entering the coupon code LBRDY13 during checkout, the business cards will automatically be discounted. Finishing options, such as rounded corners, double-sided printing and gloss coating, are available for additional charges.
Many of Signazon.com's entry-level products are already around the $25 price point, such as an 18"x24" Corrugated Plastic yard sign ($25.04), or a 10"x20" car magnet ($27.10). Using these products in combination with the free business cards gives customers the opportunity to create a consistent brand that extends from their physical presence to their off-site marketing efforts.
"Labor Day is a time to celebrate the hard-working businesspeople that make this country great," explains Rick Debus, CEO of Signazon.com, "We're offering this promotion to say thanks to our customers for their business. It's our hope that complimentary business cards could be just the networking tool they need to land that big client or another great opportunity."
For more information about the 2013 Signazon Labor Day promotion, or to get your complimentary business cards, visit http://www.signazon.com/.
About Signazon.com
11969 Plano Rd., Ste 190
Dallas, TX 75243
1-800-518-1217
PR Contact: Jason.p(at)signazon(dot)com
Signazon.com is the leading online company for custom business signs and banners. Signazon offers free template-based graphic design and high-quality, full-color digital printing, as well as nationwide distribution of magnetic signs, yard signs, marketing materials and more through its Dallas, TX and Secaucus, NJ, production facilities.