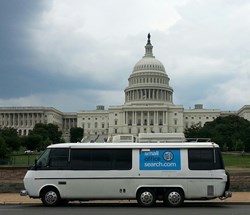 Working with Signazon was a great experience start to finish. They made the whole process seamless, and I couldn't be happier with their product or performance. — Guy Scavone, Founder, SmallOfficeSearch.com
Detroit, MI (PRWEB) August 29, 2013
In a society flooded with marketing messages from every angle, one group of Michigan entrepreneurs is using a uniquely different approach to generate buzz for their business, with the help of custom signs company Signazon.com.
Founded in 2012 by commercial real estate broker Guy Scavone and property investor Chris George, SmallOfficeSearch.com establishes a connection between property owners/brokers and prospective tenants looking for offices and suites under 3,000 square feet. Since these spaces are often a low priority for brokers and can be difficult for tenants to find, SOS bridges the gap with a convenient online database of offices that are sorted by location. Tenants can locate spaces for free, while property owners can list buildings quickly and affordably. Since its inception, the site has quickly gained popularity nationwide.
Looking to spread the word about SOS in a memorable way, founder Guy Scavone decided that a guerrilla approach would be the best strategy to reach his ideal market. Purchasing a retro RV, he packed up his family and set off to visit every city in the United States in which SOS has a listing.
"The goal was to take our message to the people. What better way than on the open road?" Scavone explains.
Signazon helped Scavone turn his RV into a mobile billboard by creating large vinyl decals and rear window graphics to place on the side of the vehicle, featuring the SOS logo and URL. Facing a crowded commercial real estate market, Scavone and his team knew that having a high-quality image printed on the right material would be an invaluable part of building brand recognition. The massive signs on the outside of the already noticeable vehicle have served as a target for both office users and landlords with property to lease. Starting in Michigan in the summer and ending in Florida in the fall, Scavone's cross-country adventure has brought new customers and also raised interest from potential advertisers. He attributes the effectiveness of his trip to the quality and originality of the Signazon car decals.
"Working with Signazon was a great experience start to finish. They made the whole process seamless, and I couldn't be happier with their product or performance," says Scavone.
Visit SmallOfficeSearch.com to learn more about Scavone and his team, to list an office, or to begin your search.
About Signazon.com
11969 Plano Rd., Ste 190
Dallas, TX 75243
1-800-518-1217
PR Contact: Jason(dot)p(at)signazon(dot)com
________________________________________
Signazon.com is the leading online company for custom business signs and banners. Signazon offers free template-based graphic design and high-quality, full-color digital printing, as well as nationwide distribution of car signs, yard signs, marketing materials and more through its Dallas, TX and Secaucus, NJ, production facilities.