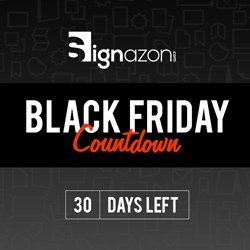 This promotion is designed to make our retail customers' lives a little easier. It's one of the busiest times of year, after all, so we want to make sure each retailer has what they need to achieve holiday sales success." – Rick Debus, CEO, Signazon.com
Dallas, TX (PRWEB) October 30, 2013
With thousands of independent retailers around the country preparing for the holiday shopping season, custom printing company Signazon.com has created a special promotion for its customers called the 2013 Holiday Countdown. From now through the end of the holiday season, customers can purchase a selection of specially-designed combination packages designed to help their business stand out in the holiday rush.
As a leader in the online printing industry, Signazon.com works with businesses to create custom marketing solutions. The company offers a wide selection of products, ranging from yard signs and car window graphics to vinyl banners and business cards. Thanks to Signazon.com's advanced printing and e-commerce technologies, it creates a unique customization system where customers can create their own personalized sign in minutes.
"This promotion is designed to make our retail customers' lives a little easier. It's one of the busiest times of year, after all, so we want to make sure each retailer has what they need to achieve holiday sales success," says Rick Debus, CEO of Signazon.com.
To help with preparations, Signazon.com has crafted four distinct combo deals to save business owners time and money. Within each deal, a selection of sale-boosting products is combined into one easy-to-order package, providing retailers with exactly what they need to launch a successful campaign.
For retailers with smaller budgets, the Sidewalk Standout combo includes a vinyl banner and a Metal A Frame bundle. These big-impact advertising products are ideal for attracting shopper attention from a distance.
Signazon's second combo deal, the Storefront Spotlight, includes a poster with snap hanger (for easy installation), a reusable decal, and two window clings, all perfect for highlighting seasonal promotions in storefront windows.
The last deal, the Storewide Special, includes a full store package: two clear window clings, a vinyl banner and a Signicade A Frame bundle, plus 250 reminder cards, which can be distributed to customers enticing them to come back for more great deals.
Once customers choose a combo deal, they'll be prompted to choose between uploading their own design and creating one online.
"For customers who choose to create their own design online, we have a large selection of Black Friday and holiday design templates that can be easily customized with business logos, messaging, colors, and photos," says Debus.
Customers needing a more-customized campaign can contact Signazon.com directly and work with an advertising consultant to create the perfect holiday marketing package.
"Sometimes a business needs its own unique campaign," says Debus, "and that's where our team comes in. We're always here to help our customers find just what they need."
To learn more about Signazon.com's 2013 Holiday Countdown, visit http://www.signazon.com/.
About Signazon.com
11969 Plano Rd., Ste 190
Dallas, TX 75243
1-800-518-1217
PR Contact: Jason.p(at)signazon(dot)com
________________________________________
Signazon.com is the leading online company for custom business signs and banners. Signazon.com offers free template-based graphic design and high-quality, full-color digital printing, as well as fast nationwide shipping of car magnets, window graphics, yard signs, marketing materials and more through its Dallas, TX and Secaucus, NJ production facilities.