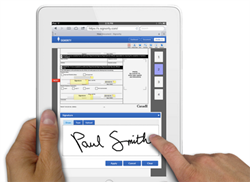 As a transactional lawyer, Signority has dramatically streamlined my process for gathering signatures from multiple parties. The product is saving my firm and our clients time and money.
Ottawa, ON (PRWEB) June 26, 2014
"We are not just an electronic signature provider. We provide a legally binding, streamlined electronic signature workflow in the cloud," said CEO of Signority Inc., an Ottawa-based SaaS company.
An electronic signature in a document is sometimes equated to just a digitized image of a handwritten signature – whether a picture or "written" with a computer mouse or stylus. Modern smart phones, tablets, and computers, make it easy to simply electronically digitize a signature image and call that an electronic signature. However, this simple definition doesn't make that "electronic signature" legally binding. To make it so, you need a proper workflow that will provide:
▪ Signing traceability,
▪ Signatory validation and non-repudiation,
▪ Document integrity and tamper prevention, and
▪ Regulatory compliance.
So, Signority is not just an electronic signature vendor – it is a provider of an online document signing workflow that makes electronic signatures legal, enforceable, and the signed documents secure and confidential.
Signority's electronic signature solution delivers real-world benefits over legacy pen and paper signature process.
No more printing, scanning, faxing, overnight courier, or paper storage. Signing can be done anytime, anywhere, and on any device within seconds of agreement, contract or form completion. Thanks to the cloud-based service, no software installation is required, eliminating start-up time and costs, and ongoing software maintenance.
◆ Assurance
Electronic signatures applied through Signority are compliant with U.S., Canadian, and international e-signature laws. Signer authenticity and document security are assured through several measures including multi-factor signer authentication, Signority's ground-breaking SaaS PKI , SSL encryption protocols, and tamper-proof digital locks on signed documents. In addition, Signority's real-time status updates and audit trails keep track of the complete signing process. These and other measures ensure that the signed document can be legally defended and signatures cannot be repudiated.
Signority's secure data centre is hosted in Canada, and all system administrators undergo Canadian government security screening.
Signority's partnership with Entrust Limited, formed in June 2014, will further strengthen signer authentication in demanding solutions through integration with the Entrust IdentityGuard software authentication platform.
As Entrust's flagship authentication solution, the platform leads the industry as one of the most robust authentication and identity-assurance platforms. It delivers an unmatched breadth of capabilities and flexibility to meet the most demanding security environments.
◆ Positive Signing Workflow Experience
Signority's streamlined and intuitive user interface delivers a positive signing experience for both document senders and signers alike. Senders don't need to wade through complex menus just to send out documents for signatures, and have the flexibility of matching several signature workflows with their needs. Signers can easily and quickly apply signatures with just a few mouse clicks without Signority accounts or logins.
Signority Inc. is an Ottawa-based SaaS company that is dedicated to bring ease and security to organizations' contract workflow and execution by offering a paperless online digital signature solution to access, verify, sign and certify documents from anywhere in the world.
Signority's customers include governments, law firms, insurance brokers, universities, and colleges.