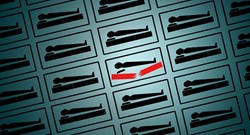 Los Angeles, CA (PRWEB) January 16, 2014
Mattresses can be easy to overlook, until they start causing big problems that is. The latest article from bed blog Best Mattress Reviews covers warning signs that it might be time to swap an old bed for a new one, a must read for anyone with a bed older than eight to 10 years.
In the article, "You Know You Need a New Mattress When…", Best Mattress Reviews highlights nine different signals to keep an eye out for, along with helpful tips and suggestions along the way. For those that do need a new mattress, the blog also offers a few useful pointers for mattress shopping as well.
Mattress age is highlighted as the first sign it might be time to get a new bed, with average life spans standing around 7-10 years. The article also lists average useful years by mattress type, and explains why warranties often outpace replacement by several years. Other key signs that point to an expired mattress include visible sagging and impressions, hammocking, and discomfort.
Along with common sense signals like aches and pains, the article also covers less obvious signs like not feeling well-rested, creaky boxsprings, allergies, and physical changes. The potential usefulness of mattress toppers and covers for extending the lifespan of a bed are also highlighted.
People that find themselves tossing and turning at night as well those who have just purchased a bed will find helpful information in the article from Best Mattress Reviews, along with links to previous articles on how mattress types compare on durability and how buying a mattress online differs from shopping in stores. The website offers several tips for buying a new bed, as well as other articles on bed brands and mattress comparisons for interested readers.
BestMattress-Reviews.org is a bed blog dedicated to providing mattress and sleep product information. On the blog, independent industry professionals provide expert opinions and recommendations backed by research and customer reviews. The website aims to make the buying and research process a little simpler by collecting and analyzing information in a digestible, enjoyable format.