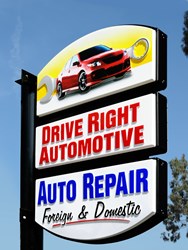 Decades of research in the area of storefront signage have allowed us to understand how humans react to different types of signs.
Torrance, California (PRWEB) February 21, 2014
Signtronix, the country's leading manufacturer of custom signs for small business, announced the launch of their new Dynalite modular sign. The many configuration options of the Dynalite allows new signage options for small business owners.
"I remember selling the original Dynalite sign when I was a salesman with Signtronix – the Gulf Development – over 40 years ago," said Tom Johnson, President of Signtronix. "Our customers were so exited about the many ways they could configure the Dynalite signs to get their name and product in front of the many people passing their business every day."
"We decided to bring back the Dynalite with an all-new, modern refresh of the design," said Tom Johnson Jr. "We've taken the many years of sign design knowledge and improved an already successful and effective sign product. Now our customers can really get their businesses noticed with the configurations of their choice with this new sign."
The Dynalite is a powerful, modular sign because it takes image signs and combines them with text signs to produce a visual message that potential customers of the Dynalite sign owner can't miss.
"Decades of research in the area of storefront signage have allowed us to understand how humans react to different types of signs," said Tom Johnson Jr. "Signs with just words, words, words on them tend to be ignored. They don't trigger the brain like images do. We think and remember in pictures. Our Dynalite sign combines these elements together. The image sign attracts the attention of potential customers, then the text sign or signs reinforce and clarifies the visual message. The bottom line is a person will always see and react to a sign with graphics – which generates more customers for our customers."
To learn more about the Dynalite signs or about Signtronix please call us at (800) 729-4853 or visit our website at http://www.signtronix.com.
About Signtronix
Signtronix (http://www.signtronix.com) is the premiere sign manufacturer for small businesses across the United States. The company was founded in 1959 and has helped over half a million customers in its 50 year history. Signtronix offers many different sign products from outdoor electric signs, LED messages signs and indoor and window signs to help America's small businesses get the exposure they need to their passing public and potential customers. Signtronix is proud to be an ESOP (employee stock ownership plan) company which is owned and operated by its employees. Join Signtronix on Facebook at http://www.facebook.com/signtronix or join us on Twitter at http://www.twitter.com/signtronix.