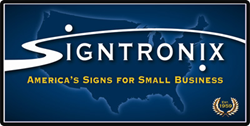 We are looking for hard working individuals to fill our Outside Sales Representative positions in Florida.
Torrance, California (PRWEB) March 31, 2014
Signtronix, the country's leading manufacturer of signs for small business, announced the opening of their Jacksonville, FL regional sales office. This office will be servicing the Jacksonville and surrounding communities for their signage needs.
"We're very excited to open this new office in Jacksonville, Florida," said Tom Johnson, President of Signtronix. "There are thousands of small businesses in the Jacksonville area that have a need for GOOD signage that presents the image the business deserve. Too many businesses settle for the cheap, unattractive signs that are words, words, words only. We are there to educate them on the difference in signage and what truly makes an effective sign that pulls in more customers for them. After all – isn't that the point for having a sign?"
Rick Rossetti, Divisional Manager for the Southeast Division of Signtronix said, "Our manager who is in charge of our Jacksonville office is David Adams, one of the most knowledgeable when it comes to understanding and presenting signs to our customers. He is passionate about not just the signs themselves – but what they can do for his customers."
When asked if they were hiring for the Jacksonville office Rick said, "Yes, we're actually looking for one or two more hard working individuals for our Outside Sales Representative position. This opportunity is truly fantastic because of the sheer number of potential customers in Jacksonville that truly need our signs. I want people who are passionate about helping others and making sure they are well taken care of when it comes to our products and services. If they are interested in the position they can apply for it at http://www.SigntronixCareers.com.
Tom Johnson said, "We're looking forward to helping the small business owners of Jacksonville and making sure their businesses flourish and thrive with the new customers they will receive because of our signs and storefront marketing products that will bring them in.
To learn more about the Jacksonville office, the Outside Sales Representative position or our products please visit http://www.signtronix.com or http://www.signtronixcareers.com. If you wish to speak to a representative directly please call (800) 729-4853.
About Signtronix
Signtronix (http://www.signtronix.com) is the premiere sign manufacturer for small businesses across the United States. The company was founded in 1959 and has helped over half a million customers in its 50 year history. Signtronix offers many different sign products from outdoor electric signs, LED messages signs and indoor and window signs to help America's small businesses get the exposure they need to their passing public and potential customers. Signtronix is proud to be an ESOP (employee stock ownership plan) company which is owned and operated by its employees. Join Signtronix on Facebook at http://www.facebook.com/signtronix or join us on Twitter at http://www.twitter.com/signtronix.