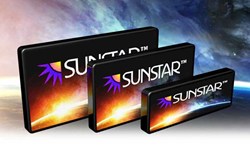 When you have the ability to constantly change your messages – you have the perfect advertising tool.
Torrance, California (PRWEB) July 31, 2013
Signtronix, the largest sign company for small businesses across America, announces the launch of their brand new full color LED display, the SunStar.
"The SunStar is an indoor, full color LED display perfect for placing in the windows of a business in order to capture the attention of the many potential customers that drive by or walk by everyday," said Tom Johnson Jr., Director of Marketing for Signtronix. "The SunStar is incredibly powerful because you can create virtually any message you want in order to promote your business or your community. The software that powers the SunStar is incredibly easy to use so you can change your messages as often as you change your mind."
The Signtronix SunStar sign comes in three different sizes, designed so they can fit in just about any window situation. Each SunStar displays up to eight lines of text. The SunStar sign can be used to announce holiday specials, display new products or services, or just warmly welcome customers into a business. To see the SunStar on the Signtronix website please visit: http://www.signtronix.com/product-emc-type-indoor-sunstar.asp.
"The ability to show your customers what you have in your business or what you have to offer them is incredibly powerful. We think and remember in pictures, so showing beautiful or visually stimulating images to passing customers will get your business noticed. And when you have the ability to constantly change your messages – you have the perfect advertising tool," said Tom Johnson Jr.
Learn more about the Signtronix SunStar full color LED sign by visiting http://www.signtronix.com or calling Signtronix at (800) 729-4853.
About Signtronix
Signtronix (http://www.signtronix.com) is the premiere sign manufacturer for small businesses across the United States. The company was founded in 1959 and has helped over half a million customers in its 50 year history. Signtronix offers many different sign products from outdoor electric signs, LED messages signs and indoor and window signs to help America's small businesses get the exposure they need to their passing public and potential customers. Signtronix is proud to be an ESOP (employee stock ownership plan) company which is owned and operated by its employees. If you wish to view Signtronix on Facebook then visit http://www.facebook.com/signtronix or you can join us on Twitter at http://www.twitter.com/signtronix.