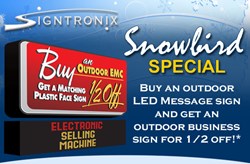 Fifty percent off one of our signs is a phenomenal savings.
Torrance, CA (PRWEB) January 28, 2014
Signtronix, the country's leading manufacturer of signs for small business, announced their new "Snowbird Special" promotion, which allows small business owners looking for new signage, to potentially save thousands on new signs.
"For our Snowbird Special we are promoting both our LED message signs and our outdoor electric branding or company name business signs," said Tom Johnson Jr., who does marketing and business development for Signtronix.
For the Snowbird Special, if a qualifying LED message sign is purchased, then the business owner will receive 50% off either a Model 45 (4' x 5'), Model 46 (4' x 6') or Model 48 (4' x 8') outdoor electric sign. The model that they get 50% off depends on the type of LED message sign they purchase.
Full details of the promotion can be found at our promotion web page here: http://www.signtronix.com/email/0114-landing1.asp.
"Fifty percent off one of our signs is a phenomenal savings," said Johnson. "I've never seen a promotion as good as this one in my time here. But the savings isn't really the true benefit for our customers. The true benefit is what the signs will do for their business. We've seen major increases in customer traffic and revenue from our customers time and time again because of our signs. A sign must be designed properly to really capture the attention of potential customers. We work carefully with our customers to make sure their sign will do its all-important job of catching the eyes of people who pass by every day."
To learn more about the Snowbird Special at Signtronix please click on the link above. If you wish to speak to a representative directly please call (800) 729-4853.
About Signtronix
Signtronix (http://www.signtronix.com) is the premiere sign manufacturer for small businesses across the United States. The company was founded in 1959 and has helped over half a million customers in its 50 year history. Signtronix offers many different sign products from outdoor electric signs, LED messages signs and indoor and window signs to help America's small businesses get the exposure they need to their passing public and potential customers. Signtronix is proud to be an ESOP (employee stock ownership plan) company which is owned and operated by its employees. Join Signtronix on Facebook at http://www.facebook.com/signtronix or join us on Twitter at http://www.twitter.com/signtronix.