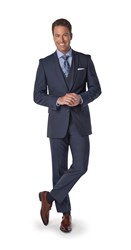 Peachtree City, GA (PRWEB) November 01, 2013
The Zurich Collection by SIGVARIS features two exclusive socks designed from some of the world's finest materials. Men and women who step into this new collection will experience relief from tired, aching legs through improved circulation. These life-changing socks are available in calf length with 15-20mmHg of graduated compression designed by SIGVARIS, the worldwide leader in the medical compression field.
Sea Island Cotton – Knitted from the world's rarest cotton, these exclusive socks offer a tailored look perfect for men for work, travel and everyday wear.
All-Season Wool – Designed from the finest Australian Merino Wool, these socks are soft as cashmere. This fine wool construction is naturally thermo-regulating and keeps feet dry, for comfortable wear in any season.
Both socks in this classic collection are available in black, brown and navy for a sophisticated look from desk to dinner and everything in between.
For more information about the powerful new Zurich Collection, please visit http://www.sigvarisusa.com.
About SIGVARIS
SIGVARIS® North America is part of an internationally active medical device group headquartered in Winterthur, Switzerland that focuses on the development, production and distribution of medical compression garments, including hosiery and socks. With distribution in more than 60 countries on six continents, SIGVARIS is recognized as a global industry leader in the area of compression therapy for the management of chronic venous disorders. SIGVARIS product lines include: SIGVARIS MEDICAL, SIGVARIS WELL BEING and SIGVARIS SPORTS. Our US manufacturing plant is located in Peachtree City, GA. For more information, please visit http://www.sigvarisusa.com. SIGVARIS is a registered trademark of SIGVARIS AG, CH-9014 St. Gallen/Switzerland and in many countries worldwide.