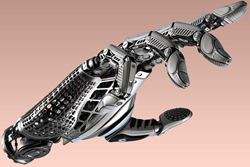 Light-Weight, Green technology from our newest economical products for the Plastics Market
Tamaqua, PA (PRWEB) September 01, 2016
Silberline, a worldwide industry leader in the design, manufacture and technical application of high quality, special effect and performance pigments introduces their newest product line for the Plastics Market.
Extra SPARKLE SILVET® 600-10-E1
Extra SPARKLE SILVET products were developed to provide aluminum pigments with the potential for creating new application designs and paint-replacement opportunities for the plastics market. Alluring and novel aesthetics can be accomplished with the unique shape of this aluminum pigment series. Moving from the traditional 2-dimensional "flake" geometry to a 3-dimensional "sphere", the geometry provides stylists and formulators a new approach for color design.
Carried in SILVET® technology, the Extra SPARKLE SILVET Series allows formulators the ability to create low-opacity metallic effects in a wide range of polymers. This system has proven effects for easy and safe handling, incorporation, and dispersion for a variety of processing options. Processing options include injection molding, film & sheet and profile extrusions.
When formulated with transparent pigments or dyes, the fine pinpoint aesthetic character of Extra SPARKLE SILVET 600-10-E1 products creates subtle tones and a three-dimensional image within the final product. The Extra SPARKLE SILVET series allows for low flow line appearance while providing a stylist the option to bypass mold re configurations and offer new color designs quickly.
SILVET® E LT12882 AND SILVET E LT12883
SILVET E LT12882 and SILVET E LT12883 grades are economical leafing aluminum pigments with corn flake geometry now being produced in pellet form for ease of handling and reduction of potential airborne contaminants.
This new SILVET E series is engineered to enable customer solutions for good opacity, hiding, brilliance in reflectiveness and brightness for the agriculture films and other applications and opportunities.
Processing options include:

Films
Sheet extrusion
Profile extrusion
Injection molding
Blow molding
CHARACTERISTICS
CORN FLAKE SILVET E LT12882

Corn flake
D(50) 24 µm
Aluminum Flake 80%
Carrier PE Wax 20%
Specific Gravity ca 1.93
Non-Volatile by weight (target) 98.5%
Easy to handle
CORN FLAKE SILVET E LT12883

Corn flake
D(50) 21 µm
Aluminum Flake 80%
Carrier PE Wax 20%
Specific Gravity ca 1.93
Non-Volatile by weight (target) 98.5%
Easy to handle
Silberline continues to provide global support in application development and processing for these and all products in the Americas, Europe and Asia-Pacific. Contact your Silberline representative for additional information and samples.