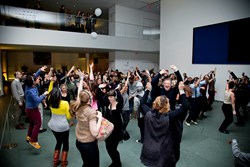 We just realized how much fun silent disco was and wanted to help make more events possible.
Ithaca, NY (PRWEB) February 18, 2014
Party Headphones, a 2013 graduate of Cornell University's eLab Incubator, is generating overwhelming business off a unique event concept called silent disco. The student led business has provided for over 100 events during their first 12 months of business, while over half of the team is still in school.
Silent disco is a fast growing event concept where music is broadcast to wireless headphones worn by the audience instead of being played through a speaker system.
"When we first started the business we didn't know what to expect," said Jacob Reisch, CEO of Party Headphones. "We just realized how much fun silent disco was and wanted to help make more events possible."
The student led team found their opportunity while building a business plan for an entrepreneurship class in the spring of 2012. Their research showed that as the events grew rapidly in the United States, there was no company specializing in working with DJs and event production companies to provide radio frequency wireless headphones for special events.
The responsibilities of running a business while still in school is challenging, but rewarding, Reisch indicated.
"It is not easy to balance school work with the demands of a growing business," said Mayur Patel, VP of Development for Party Headphones and Cornell University class of 2016. "We would be less apt to put ourselves through all the hard work if we weren't seeing such fast growth" he added.
The company is now doing business in 34 states and working with a variety of customers including Red Bull, Nestle, MTV and Viacom. With the recent launch of their blog at gosilentdisco.com, the company hopes to spread silent disco all throughout the country.
About Party Headphones
At Party Headphones, we believe the world needs more fun, more excitement - more often. To make this possible, we offer premier audio technology to help better connect people with their listening experience. Our multi-channel RF wireless headphone systems allow users to plug any audio source into a transmitter, which then broadcasts to all headphones within 300 feet.
Party Headphones is one of the largest, fastest growing companies at Cornell University. Founded in June 2012 and a graduate of Cornell University's eLab Incubator, Party Headphones has worked with numerous Fortune 500 companies and been featured on the Boston Globe, CBS News and Wakefield Media.
For more information on silent disco, visit gosilentdisco.com or visit us at partyheadphones.com for your very own silent disco headphones.