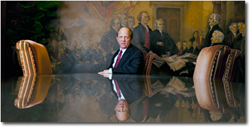 Workers and the families of workers who have suffered from or died as a result of silicosis may be eligible to file a silicosis lawsuit.
St. Louis, MO (PRWEB) August 30, 2014
A study from the University of Maryland* released this summer indicates that workers involved in fracking have the potential to develop silicosis from exposure to silica dust. Fracking is a widely contested practice for extracting natural gas due to detrimental health impacts including water quality and the introduction of contaminants.** This study, which was presented to the Marcellus Shale Safe Drilling Initiative Advisory Commission on August 18, 2014, poses an argument for regulating fracking in order to protect occupational health. Attorneys handling occupational silicosis claims for lung disease, cancer, TB and other serious health problems provide full silicosis lawsuit information at SilicosisLawsuitCenter.com.
The report, "Potential Public Health Impacts of Natural Gas Development and Production in the Marcellus Shale in Western Maryland" specifically examines the potential for detrimental health outcomes for fracking workers in Maryland but has widespread relevance to fracking projects elsewhere. The executive summary of the report indicates that the risk of silicosis that is faced by workers in other areas could be mitigated in Maryland if proper regulations are established:
"Our assessments of potential health impacts are not predictions that these effects will necessarily occur in Maryland, where regulation is likely to be stricter than in some states where [unconventional natural gas development and production] is already underway. Rather, we provide assessments of the impacts that could occur and that need to be addressed by preventive public health measures if and when drilling is allowed."
The Marcellus Shale is a zone in Western Maryland that has yet to be exploited for natural gas. The study was commissioned by the Maryland Department of Health and Mental Hygiene to elucidate the "potential public health impacts of natural gas development and production" in that area. The Institute for Applied Environmental Health (MIAEH) at University of Maryland School of Public Health carried out the study. The outcomes of the study will help officials determine whether and how widespread fracking will be permitted in the proposed region.
According to "The Facts on Fracking", a March 13, 2013 piece in the New York Times, hydraulic fracking is a method of drilling and injecting fluid into the ground at a high pressure in order to fracture shale rocks and access the natural gas trapped inside.** As described by the article, the process is widely criticized for its detrimental environmental outcomes. The study from the University of Maryland indicates that fracking is likely to be harmful to workers' health. Table 6.1 in the study asserts that the likelihood of a negative impact on the air quality of the region and on occupational health are high.
Silicosis is a progressive and irreversible pulmonary disease that results from exposure to respirable silica dust particles in a variety of settings, from agricultural work and landscaping to mining and sandblasting. Damage to the lungs caused by silica particles is irreversible, and the condition progressively worsens over time. Workers and the families of workers who have suffered from or died as a result of silicosis may be eligible to file a silicosis lawsuit.
The Onder Law Firm is currently accepting inquiries from workers and families of workers who have been diagnosed with silicosis and have a history of working in an occupation that involves silica dust exposure, such as construction, mining, pottery, agriculture, or landscaping. Silicosis lawyers are investigating cases of lung disease, cancer, and TB as well as worker's comp appeals for possible silicosis lawsuits against employers. The Onder Law Firm has won major settlements for clients in the areas of drug and medical device recalls, as well as product and family safety. The firm is nationally-renowned for its work on window blind strangulation, and has notable expertise in fighting on behalf of individuals against powerful corporations and large companies. Workers and family members of such individuals who have been diagnosed with silicosis and have experienced occupational risks for silica dust inhalation, qualify to receive a free evaluation with a silicosis attorney, and may contact the firm through its Silicosis Lawsuit Center website.
The Onder Law Firm also welcomes silicosis lawsuit and silicosis worker's compensation inquiries from other law firms, either to handle these inquiries or work as co-counsel.
About The Onder Law Firm
Onder, Shelton, O'Leary & Peterson, LLC is a St. Louis based personal injury law firm handling serious injury and death claims across the country. Its mission is the pursuit of justice, no matter how complex the case or strenuous the effort. Onder, Shelton, O'Leary & Peterson has represented clients throughout the United States, and other firms throughout the nation often seek its experience and expertise on complex litigation. It is a recognized leader in products liability cases such as window blind cord strangulation and pharmaceutical litigation. The Onder Law Firm's silicosis lung disease, cancer and TB lawyers provide information to the public at http://www.SilicosisLawsuitCenter.com.
*phpa.dhmh.maryland.gov/OEHFP/EH/Shared%20Documents/Reports/MDMarcellusShalePublicHealthFinalReport08.15.2014.pdf
**nytimes.com/2013/03/14/opinion/global/the-facts-on-fracking.html?pagewanted=all&_r=0