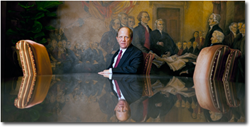 St. Louis, Missouri (PRWEB) May 29, 2014
The national product and family safety attorneys announce their new website, the Silicosis Lawsuit Center. Launched by lawyers with The Onder Law Firm handling worker's compensation silicosis lawsuits for lung disease, cancer, and TB, the Silicosis Lawsuit Center serves as a comprehensive resource to the public on occupational silica dust exposure. The site includes answers to frequently asked questions regarding silicosis lawsuits, and connects workers and their families with seasoned silicosis attorneys.
Silicosis is a progressive and irreversible pulmonary disease that results from exposure to respirable silica dust particles. Believed to be widely underdiagnosed, silicosis affects an unknown number of persons in the United States each year. The causes of silicosis are widely understood, yet necessary precautions to prevent the condition are frequently overlooked. Workers who develop silicosis as a result of an occupational exposure to silica dust may have legal grounds for a silicosis lawsuit.
Silicosis is a health problem that affects workers in a variety of settings, from agricultural work and landscaping, to mining and sandblasting. Short, intensive exposure to airborne silica particles can result in acute silicosis, which develops quickly into respiratory failure. Prolonged, low-grade silica dust exposure leads to chronic silicosis, symptoms of which may not surface until years after the exposure period. In any case, damage caused by silica particles in the lungs is irreversible, and the condition progressively worsens over time. Workers and the families of workers who have suffered from or died as a result of silicosis may be eligible to file a silicosis lawsuit.
A number of prominent national organizations take part in preventing silicosis in the United States, including the National Institute for Occupational Safety and Health (NIOSH), the Occupational Safety and Health Administration (OSHA), the Mine Safety and Health Administration (MSHA), and the American Lung Association. Silicosis is also a problem throughout the world, and is the subject of warnings from the Office of Occupational Health at the World Health Organization.
The Onder Law Firm is currently accepting inquiries from workers and families of workers who have been diagnosed with silicosis and have a history of working in an occupation that involves silica dust exposure, such as construction, mining, pottery, agriculture, or landscaping. Silicosis lawyers are investigating cases of lung disease, cancer, and TB as well as worker's comp appeals for possible silicosis lawsuits against employers. The Onder Law Firm has won major settlements for clients in the areas of drug and medical device recalls, as well as product and family safety. The firm is nationally-renowned for its work on window blind strangulation, and has notable expertise in fighting on behalf of individuals against powerful corporations and large companies. Workers and family members of such individuals who have been diagnosed with silicosis and have experienced occupational risks for silica dust inhalation, qualify to receive a free evaluation with a silicosis attorney, and may contact the firm through its Silicosis Lawsuit Center website.
The Onder Law Firm also welcomes silicosis lawsuit and silicosis worker's compensation inquiries from other law firms, either to handle these inquiries or work as co-counsel.
About The Onder Law Firm
Onder, Shelton, O'Leary & Peterson, LLC is a St. Louis based personal injury law firm handling serious injury and death claims across the country. Its mission is the pursuit of justice, no matter how complex the case or strenuous the effort. Onder, Shelton, O'Leary & Peterson has represented clients throughout the United States, and other firms throughout the nation often seek its experience and expertise on complex litigation. It is a recognized leader in products liability cases such as window blind cord strangulation and pharmaceutical litigation. The Onder Law Firm's silicosis lung disease, cancer and TB lawyers provide information to the public at http://www.silicosislawsuitcenter.com/.