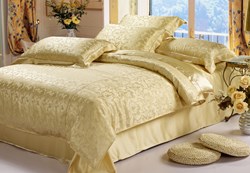 We hope customers enjoy the great time with our high-quality silk bedding.
Jersey City, NJ (PRWEB) November 09, 2013
As a top manufacturer and retailer of silk bedding in the world, Lilysilk is now excited to launch a big promotion on its silk bed linen for Thanksgiving Day 2013. All customers can get 10% off discounts on the total prices of fitted sheets and pillowcases in Oxford style.
Lilysilk provides all the silk bedding in 19mm, 22mm, and 25mm. All Lilysilk's sheets are manufactured with high-quality supplies. Besides, 19mm sheet sets are available with up to 16 colors and all sizes from twin to cal.king. A large range of choices allows customers to have the nice shopping experience at Lilysilk.com. The company also provides 45-day risk-free return policy for customers, so that they can shop with confidence and guarantee.
"All fitted sheets and pillowcases can be purchased at discounted prices. The height of fitted sheet can be customized according to the size of your mattress," says, Mike Lee, CEO of Lilysilk. "We hope customers enjoy the great time with our high-quality silk bedding, so that we can expand our market share in a short time."
Furthermore, this bedding store is also supplying special discounts on spring comforters paired with duvet covers; as it is well-known that Lilysilk only uses the best silk to make into comforters which are suitable all the year round.
About Lilysilk
Lilysilk is a leading and well-known silk bedding store in the market. The store provides a large range of silk products, including sheet sets, pillows and pillowcases, comforters paired with duvet covers, pillow shams, and other related accessories. All these products from this company have high quality, refined tailoring, and smooth feeling. Feel assured to purchase at Lilysilk.com at discounted prices.
More information about Thanksgiving Sale can be accessed at: http://www.lilysilk.com/.