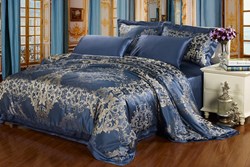 A piece of silk bathrobe is a fantastic gift for a lady.
San Diego, CA (PRWEB) October 31, 2013
Lilysilk has recently announced generous discounts on silk bed linens on its website. All customers can get bathrobes as perfect gifts only if they buy the silk bed linens on and before Halloween Day. This gift idea is put forward by Mike Lee, CEO of the company.
He said, "We are really excited to launch this promotion. A unique gift shows a true expression of love and gratitude, and a piece of silk bathrobe is a fantastic gift for a lady."
Lilysilk is a China-based industry which only uses the best quality silk to make into silk bed sheets for customers worldwide. The company has a large range of silk bedding sets, including bed sheet sets, comforters and pillows, blankets and coverlets, and etc. All these products from Lilysilk.com are featuring top quality, delicate designs, exquisite craftsmanship and gorgeous looks. In order to feel the festival atmosphere of Halloween, Lilysilk also launches a big promotion on its silk bed sheets for all clients.
"Though our products have little relation with this festival, we are proud and excited to launch this promotion. Kids need nice and firm sleep after the daytime joy. And it is also the carnival for adults to shop online," said, Mike Lee.
Lilysilk has also come up with similar discounts on its well-designed silk comforters, available in 3 shells. Customers will get 50% off on duvet covers as long as they buy the spring or winter comforters at Lilysilk.com.
About Lilysilk.com
Lilysilk is the leading supplier of silk bed sheets, comforters, pillows and other accessories from China. They vow to bring customers much more cozier home by offering stylish and premium quality silk bed sheets. Excellent customer support, high-quality, speedy delivery, and competitive prices, are the reasons to choose Lilysilk.
More information about Halloween promotion at Lilysilk can be accessed at: http://www.lilysilk.com.