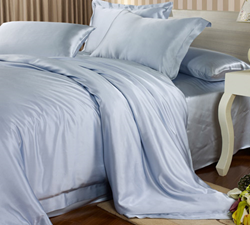 They are a wonderful source we look forward to using for years to come.
Dallas, TX (PRWEB) March 13, 2014
Lilysilk has been selling silk bedding wares and silk pajamas for years, which puts forward "Customers Are First" at their company. This time, the company has launched a Spring Promotion, offering 10% off on its silk bedding sets. This promotion will be valid until March 23, 2014.
100% pure silk bedding sets are becoming more and more popular among ladies and gentlemen. They would like to spend a little more money to purchase high-end silk products. According to customers from Lilysilk store, they are fascinated by silk sheets for their soft and smooth touch, shimmering luster, breathable and hypoallergenic features etc.
Customer Robert gave his comment, "It's taken a few years and several purchases to finally find a source for high-quality silk bedding. My wife and I are not silk experts by any means, but we do enjoy the comfort of silk bedding. So, it's been disappointing in the past to purchase silk that simply didn't hold up for very long despite taking extra care when laundering it. Fortunately, we found Lilysilk. Not only do they have a wide selection of silk bedding, but they also have very helpful information regarding what to look for in silk products and craftmanship, and how to select quality silk bedding. ...and quality silk bedding is all they carry... They are a wonderful source we look forward to using for years to come."
Customer Julia said, "Spring Sale launched by Lilysilk is great! I just wanted to buy a bed set, and was puzzled about which store to choose. I found there are lots of high comments from other customers on Lilysilk store. And they are running the promotion. I was so surprised about their products when I opened the package 2-day later after I placed my order at Lilysilk website. So fantastic. High quality, and shimmering luster. Amazing!"
More information about Lilysilk company and products can be accessed at: http://www.lilysilk.com/ or its Facebook page: https://www.facebook.com/LuxurySilk.