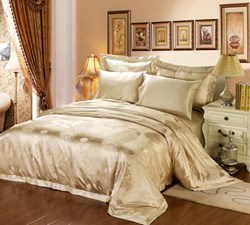 What our customers want most are premium quality products plus considerate services.
Miami, FL (PRWEB) December 19, 2013
Recently, Lilysilk.com, one of the best silk bedding online store, has announced 20% off on its 22/25MM silk bed sheets for customers at home and abroad. What's more, customers could receive additional silk scarf worth $60 together with their packages. These campaigns will expire on December 25th, 2013.
People may never receive such an awesome Christmas gift from a company. Lilysilk promises its customers that, just like what Mike Lee said, "These silk scarves are delicately designed by our designers. They are really pretty, and I am sure you will love our silk scarves once you see them."
Lilysilk only uses 100% mulberry silk to make into its products. The company aims to bring the best quality silk products to customers. The bedding sets from Lilysilk feature trendy designs, gorgeous look and delicate craftsmanship. Now, they are available at discounted prices.
"Our products are streamlined into a system that checks and double checks quality, from sourcing to delivery. Also, we offer 45-day risk-free return policy which allows customers to return goods only if they are not washed or used and in original package. What our customers want most are premium quality products plus considerate services. Those are our company's goals." says, Mike Lee.
In addition, Lilysilk offers similar discounts and promotions on its silk pillows and silk pillowcases. Silk eye masks are also gifts from their website.
About Lilysilk.com
Lilysilk.com is a leading manufacturer and retailer of silk bedding. The company offers a large range of silk sheets, comforters, pillows, nightwear, with up to 16 colors available. High quality, competitive prices, delicate designs, exquisite craftmanship, are features of Lilysilk products. Customers choose Lilysilk for its high-end products, excellent services, and speedy delivery.
More information about Lilysilk Christmas promotion can be found at: http://www.lilysilk.com/