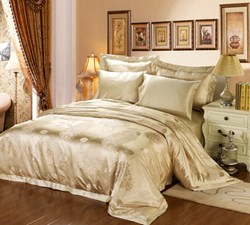 It certainly makes me happy to know that our products are getting to more people and making their lives better.
(PRWEB) December 07, 2013
Lilysilk.com, the leading online retailer specializing in luxury top-end silk bedding products and sleepwear, has just announced its annual sales event for this year's Christmas shopping season starts today. Customers can keep enjoying great discounts when they purchase silk bedding sets and pillow sets for themselves or their loved ones, and are encouraged to stay tuned as more
discount options will be introduced on a weekly basis.
"Our Black Friday and Cyber Monday sales events have been great this year," said company CEO Mike Lee when asked about what he thinks of this year's shopping season. "Lots of customers have contacted us to inquire about our products and make purchases over this weekend, and it certainly makes me happy to know that our products are getting to more people and making their lives better. That is why we have decided to keep offering these discounts throughout this year's Christmas shopping season. Not only that, we are also planning on adding more saving options soon."
According to Lilysilk's official news release, most discount options advertised during Lilysilk's Black Friday and Cyber Monday sales events will continue to be available to all customers, including 22/25mm silk bedding sets (duvet cover, sheets and pillowcases) at 20% off*, all pillow sets (pillow and pillowcase) at 30% off and 19mm silk bedding sets at 10% off. The company is also planning on introducing a store-wide 10% discount on all of its silk duvets/comforters soon, which have been one of the most sought-after products during the Black Friday weekend. Lilysilk will also be sending out special savings coupons to old customers to show the company's appreciation for their past support.
All the products on sale are available in all sizes and customers can choose the color of their purchase from an impressive 16-color selection including white, black, claret, blue, gold, charcoal, and many more.
About Lilysilk:
Founded in 2010, Lilysilk has expanded rapidly over the past three years to become one of the most renowned manufacturer/retailer of high-end silk products worldwide. Firmly believing that customer satisfaction is of the utmost importance, Lilysilk has worked hard to bring silk lovers worldwide the best quality silk sheets, comforters, pillows, blankets, coverlets and many other silk products. The company's reliable product quality, affordable prices, prompt and considerate customer service and lightning fast delivery have gathered numerous praises from its customers. More information on the company and its sales event can be found at: http://www.lilysilk.com.
*Conditions apply: Only on purchases over $500/£300.