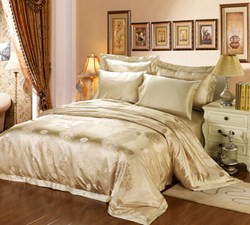 We are confident that none of our competitors comes even close to beat us in providing customers with the best shopping experience possible
Richardson, TX (PRWEB) December 03, 2013
Lilysilk.com, the leading online retailer of top-shelf luxury silk bedding ware and sleepwear worldwide, are now offering their higher-end 22mm and 25mm lines of silk bedding sets at a great 20% discount in preparation for this year's Christmas sale event. Customers are encouraged to take this opportunity and save up to hundreds of dollars on their bedding set purchases and create for themselves the perfect bedroom.
"We recommend silk lovers to look at not only the percentage of the discounts, but also at the quality of the products and the final prices including shipping cost and return policies before they make purchasing decisions, because we are confident that none of our competitors come even close to beat us in providing customers with the best shopping experience possibly." said Mike Lee, CEO of Lilysilk.
The 20% discount is being offered on all 22mm and 25mm silk bedding sets including all of the embroidered, jacquard and textile printed variations. Customers can easily customize the number of each of the items in a particular set including duvet covers, flat sheets, fitted sheets and pillowcases, and all silk bedding sets come in twin, full, queen, king and California king sizes as well as in a total of 16 colors including white, black, gold, blue, etc. The material used in these bedding sets is 100% pure and natural Mulberry silk which has been selected from a large collection of only the best quality 22mm/25mm silk, and masterfully woven into fine silk fabric that offers the softest touch, the smoothest flow and drape, and the most delicately luxurious sheen that would easily wow the most picky of bedding ware critics by appearance alone, not to mention the various health benefits associated with sleeping in silk.
Lilysilk urges North American consumers that are interested in purchasing bedding ware to look up the benefits of silk bedding sets and sleepwear at Lilysilk.com in the FAQ section. The company is confident that once consumers understand the health and lifestyle improvements they can get from a great silken bed, it is only a matter of time before they make the switch to silk that will last them a lifetime.