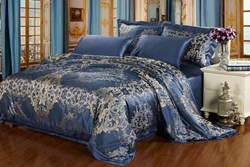 Silk products are beneficial for people who suffer from allergies.
Rosenberg, TX (PRWEB) October 20, 2013
As a reliable supplier of silk products, Lilysilk, today, launches a big promotion on its 22mm or 25mm silk bedding sets for Halloween Day. Adults could enjoy the shopping carnivals on Lilysilk website from today on.
Lilysilk's products feature top quality at affordable prices, exquisite craftsmanship, delicate designs, and gorgeous looks. Hand crafted from 100% natural silk, their 22mm and 25mm silk bedding sets are no exception. In addition, the company launches a big sale on these silk bed linens today. A customer whose order on 22mm silk bed sheets exceeds $600 could get a piece of silk robe as a Halloween gift. According to Mike Lee, CEO of the company, customers can select the size of silk bathrobe for personal figure. What's more, a customer can get a free silk blanket if his order on 25mm seamless silk bed linens exceeds $600.
"We are excited to launch this promotion on our best-selling silk bed sheets for Halloween Day. Customers don't have to pay exorbitant amounts of money to indulge in silk luxury. Silk products are beneficial for people who suffer from allergies." says Mike Lee. "Take a moment to gaze upon our great collection of 22mm silk bed linens and buy one for yourself. I bet you will love them."
Mike Lee stresses, "Good sleep quality is the vigor resource for daytime job. Our bed linens are crafted from Chinese best mulberry silk for its huge silk benefits. Shop online for the latest styles of bed sheet sets at Lilysilk to get a firm sleep."
About Lilysilk
As a leading online store that offers 100% pure silk bedding, Lilysilk's mission is to make bedroom more cozy and healthy, by offering high quality silk products and stylish designs to each customer. People choose Lilysilk for its excellent service, top quality at affordable prices, and speedy delivery.
For more information, please visit: http://www.lilysilk.com.