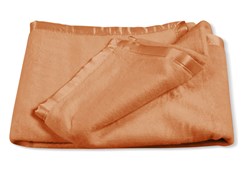 Our aim is to bring our Chinese best silk products to the world.
Detroit, MI (PRWEB) January 22, 2014
Silk products from Lilysilk bedding store, a well-known manufacturer and retailer of silk bedding wares, are famous for the large range of colors and sizes. Recently, the company has undated its blanket collection by adding another two colors: pink and yellow into the original color range. According to Mike Lee, CEO of the company, they have already launched promotions on the blankets, with 14% off discount available. He introduced that, the silk blankets are the best gift choices for couples on Valentine's Day.
It seems that everybody knows the benefits of silk products, and everybody knows they are expensive. Indeed, they are. Silk is luxurious, and its protein is beneficial for skin and hair. That is also the reason why so many people would like to spend a little more money on buying much more sumptuous silk blankets, sheets and sleepwear. Maggie, a lady from Detroit, wrote in her blog, "Only when your hands and skin touch these silk blankets can you feel the ultimate comfort and luxury. Perfect!"
Lilysilk is a China-based company which is located in Hangzhou where abounds in silk goods. All silk bedding wares from their company are well-manufactured with premium quality silk fabrics, featuring careful tailoring, delicate craftsmanship and exquisite designs. Its CEO, Mike Lee, a faithful and responsible gentleman, has ever said, "Our aim is to bring our Chinese best silk products to the world. With approaching of the Valentine's Day, we offer several gift choices with discounts for customers, hoping they have a nice and memorable day at February 14th."
These gift choices include silk nightwear both for men and women, silk scarves, silk pillowcases and blankets. The company also puts forward its slogan for Valentine's Day, "You and Me Together, We Make Magic." to encourage people who have affection on each other to stay together forever. There is an old Chinese saying, "Jack Shall Have Jill, All Shall Be Well." It will be the best wish on that romantic day.
More information about Lilysilk products and promotions can be found at http://www.lilysilk.com/