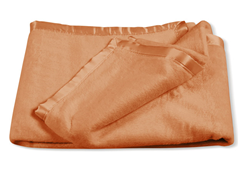 Our silk blankets are made from 100% pure mulberry silk, and they are light weight which are the perfect gift options on Mother's Day.
Savannah, NY (PRWEB) May 12, 2014
Mother's Day is around the corner. Lilysilk, the leading silk retailer specializing in silk bedding wares, has proudly launched its Mother's Day Deal, offering 15% off discounts on its mulberry silk blankets, to convey their gratitude to female friends.According to the CEO of Lilysilk, Mike Lee, this promotion is valid until May 21st.
Mothers play a big role in the family and in the society. Husbands and children celebrate this special day by sending delicate and considerate gifts to mothers. Silk products, like silk sheets, or silk pajamas, are really popular in the current market. People tend to spend a little more money to buy a better gift for female friends. Lilysilk has been a professional and distinguished silk bedding manufacturer for years. This time, the company has picked up silk blankets as one of the best gifts for mothers and announced promotions on the silk blankets. Customers will be saved a lot at the reliable website.
"Our silk blankets are made from 100% pure mulberry silk. We are proud that our silk blankets are popular among ladies and gentlemen. Silk blankets can be used both in the spring and autumn, and sometimes in the summer if you have an air-conditioner. And now, the blankets are 15% off. The promotion will end soon!" says Mike Lee.
With the approach to the Mother's Day, lots of people rack their brains to hunt for the upscale gifts for mothers. Silk products are the trends this year. "Love her, and spoil her this Mother's Day," Mike Lee added.
The business has also offered other discounts at their website. Any more detailed information about the company and its promotion can be accessed at: http://www.lilysilk.com.