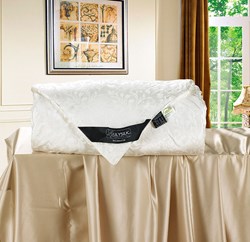 All lilysilk's products are hand-made with superb quality as well as styles.
Austin, TX (PRWEB) October 21, 2013
As a leading retailer of silk products, Lilysilk, recently, has announced a big promotion on its 22mm silk duvet covers, up to 50% off, only if customers buy their winter or spring silk comforters at the same time. This promotion lasts nearly 15 days, from Oct 18th to Nov 1st .
Lilysilk comforters and silk duvet covers are hand made from the best quality silk from China. Only by using the 100% pure silk floss can these comforters be healthy and beneficial for skin and hair. According to Mike Lee, a senior spokesman for the company, the comforter sets sell well on their website. It seems that people would like to cover their silk comforters with duvet covers. This time, the company launches a promotion on the popular sets to deliver its gratitude to customers home and abroad.
"In order to extend our sincere gratitude to customers on Halloween Day, we bring bonus for them by offering big savings and special offers on winter and spring comforters, as well as the matched silk duvet covers.We do hope they will like them. All lilysilk's products are hand-made with superb quality as well as styles, and we keep exploring online market to dig out much more premium-quality products for them." says, Mike Lee.
Furthermore, Lilysilk is also offering savings on 22mm and 25mm silk bed sheets. More gifts are sent on their website when people buy 22mm and 25mm bed linens.
About Lilysilk
Lilysilk is an international silk bedding online store, which offers top quality silk sheets, silk comforters, and silk coverlets. Refined silk fabrics, delicate designs, pure craftsmanship, perfect customer services, and speedy delivery are reasons to let lilysilk be the world's leading silk manufacturer and retailer.
More information about the crazy promotion can be accessed at: http://www.lilysilk.com