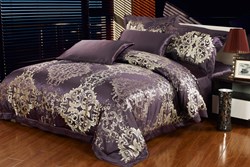 Lilysilk is really proud to offer another luxurious selection of silk bedding
Long Island City, NY (PRWEB) September 06, 2013
Lilysilk is a well-known brand of silk bedding products. Recently, the company has launched a promotion of silk coverlets, offering up to 40% off to its customers worldwide.
Lilysilk's silk coverlet is top quality and comes with 8 elegant colours, which can serve as a lightweight cover in summer and an extra layer for warmth in winter. Filled with pure mulberry silk floss, the coverlet has 5-7cm flange with stunning quality.
Lilysilk is devoted to the designing and manufacturing of best quality silk sheets. The company's jacquard silk duvet covers are also popular for the fine fabrics and trendy designs among its customers worldwide.
"Now, we are extremely happy to launch this promotion to show appreciation to our customers. Lilysilk is really proud to offer another luxurious selection of silk bedding, and our silk coverlets on sale are offered in 8 royal colors," said Mike Lee, CEO of Lilysilk.
He added," Our aim is to make our products impressive and affordable at the same time. Moreover, we have our own designers, who can create what customers actually need. Now, we are offering 40% off on our silk coverlets and all customers visit our shop can enjoy the discount."
Lilysilk is an industry-leading supplier of silk bedding products for several years. Furthermore, the company's silk nightwear also include a wide array of styles, like full-length silk robe, sweetheart silk nightgown and sleeveless silk nightshirt.
About Lilysilk
Based in China, Lilysilk is one of the most popular online shops for buying trendy silk bedding products at best prices. The meticulous production and perfect customer service have made the company well-known among customers.
More information can be found at http://www.Lilysilk.com.