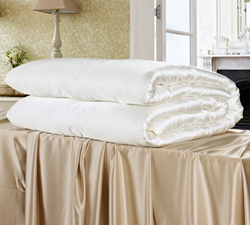 All our duvets have received many positive comments from our clients.
Lewisville, TX (PRWEB) February 26, 2014
Lilysilk.com is a leading supplier of silk bedding wares and clothing for many years. Recently, the company has introduced its top quality and delicately designed silk duvets and comforters which are made from 100% pure mulberry silk floss to customers worldwide for 2014 spring.
According to Mike Lee, CEO of Lilysilk, their silk duvets and comforters are newly designed with updated technique. Silk floss is layered in a criss-cross pattern to create strong and durable filling. They tackle the filling to the hem so that there is no worry about bunching, clod spots or shakedown in the morning. They company sells two styles of comforters: summer silk comforters, all-season silk comforters.They are featured with rich fabrics, fine tailoring, and meticulous production. All these comforters and duvets are available in twin, full, queen, king and cal.king.
"We introduce our high quality silk comforters to customers worldwide. We also hope that customers can make a shopping decision more efficiently," says, Mike Lee. "All our duvets have received many positive comments from our clients. Now, we recommend them to housewives worldwide."
A customer named Scarlet Morris, said, "I have purchased a number of bedding from Lilysilk and I am very pleased with the quality of the fabrics, as sometimes when you see things online they do not look as good in reality. But with Lilysilk they actually look much better. Just the other day I ordered a sheets set which - when it arrived - was so nice I decided to purchase the comforter. Excellent, can't put into words how pleased I am as it is the icing on the cake, making my bedroom look very opulent. Thank you!"
Lilysilk is proud to introduce its high quality silk comforters and bedding wares to customers at home and abroad. More information about Lilysilk company and products can be accessed at: http://www.lilysilk.com/ or its Facebook page: https://www.facebook.com/LuxurySilk.