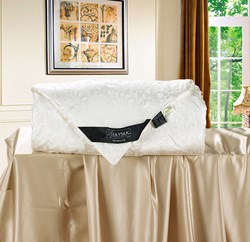 Men also like and need silk products.
Phoenix, AZ (PRWEB) November 01, 2013
Lilysilk, as a reliable manufacturer and retailer of silk bedding, has introduced its best-selling silk duvets and comforters at discounted prices to customers worldwide. These attractive and durable duvet sets win high admiration and are widely trusted at home and abroad.
It is reported that Lilysilk only uses the best-quality silk fabric from China to make into sheets, comforters, pillows and other related accessories. According to Mike Lee, CEO of Lilysilk, they aims to provide Chinese best silk products to new and returning customers. Designers from Lilysilk store delicately tailor the styles of sheets and comforters, so as to meet the demand of fashion and health from ladies and gentlemen.
A poll conducted by Lilysilk staff has shown that more and more men are realizing the importance of silk sheets. Tom, an American young man, has ever said that, "Men also like and need silk products. It is not the privilege of women to enjoy the silk sheets." Mike Lee, has replied, "We have already noticed that urgent need. And we have introduced the new collection of men's nightwear in recent days. Female friends can send the silk products to men. It will be fashionable. "
Handcrafted from 100% pure silk, these duvets and comforters paired with silk sheets are perfectly suitable for both men and women who are seeking for high-quality and healthy life style.
About Lilysilk
Lilysilk specializes in providing a large range of silk sheets, (including duvet covers, fitted sheets, flat sheets, and pillowcases), comforters, pillows, blankets. Lilysilk's silk bed sheet sets are popular among housewives for the fashionable designs and delicate craftsmanship. Excellent customer support, high-quality, speedy delivery, and competitive prices, are the reasons to choose Lilysilk.
More information about silk duvet can be accessed at: http://www.lilysilk.com.