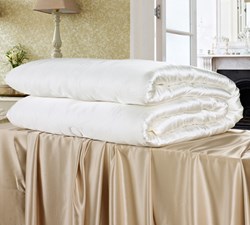 Our comforters are really beneficial for the olds who have bad sleep quality.
Stockton, CA (PRWEB) November 03, 2013
It seems that the shopping season is coming. People are busy preparing gifts for family members and other beloved ones. But a big problem is that what are the perfect and suitable gifts for different people? Lilysilk, as a distinguished expert of health and beauty, tells customers to send pure silk products, such as the silk-filled comforters, to their beloved ones.
Thanksgiving Day is a big time to say thanks and express gratitude to families and others that are important in life. As it is well known that silk products are beneficial for heath, skin and hair. More and more people prefer to buy 100% natural silk products as Thanksgiving gifts. Parents and ladies indicate that they are happy and joyful to receive the silk gifts. By exploring the market, Lilysilk made a detailed shopping guide for customers to buy Thanksgiving gifts.
According to Mike Lee, CEO of Lilysilk, the olds, such as parents, prefer silk-filled comforters as gifts; young ladies would like to receive the silk nightwear or pair of pillowcases; men and housewives like mulberry sheets.
"We are glad to help customers buy the best thanksgiving gifts. Our comforters are really beneficial for the olds who have bad sleep quality. I am sure once you sleep on these silk sheets, you will never come back to any other fabrics," Mike Lee adds.
Silk duvets and comforters paired with silk sheets are indeed perfect gifts for family members on Thanksgiving Day or at Christmas.
About Lilysilk
Lilysilk is a leading manufacturer and retailer of silk bedding, by providing high-quality sheet sets (including duvet covers, fitted sheets, flat sheets, pillowcases), comforters, pillows, other related accessories. High quality, affordable prices, delicate designs and craftsmanship, are reasons to choose Lilysilk.
More information about Thanksgiving gifts at Lilysilk can be accessed at: http://www.lilysilk.com.